We have created DW FAQ to help you quickly & easily add the Frequently Asked Questions (FAQ) section to your WordPress site. This is a simple but flexible plugin that helps you insert FAQ section via short-code or PHP function. It comes with these following features: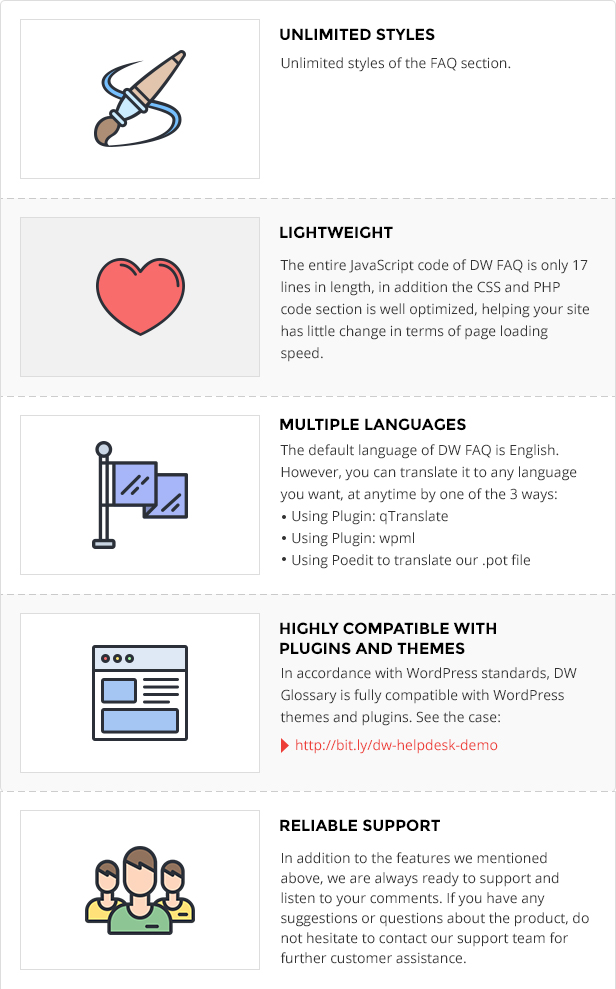 Unlimited Styles
With DW FAQ, we offer you a solution to all Frequently Asked Questions (FAQ) section on your WordPress site. You can add unlimited numbers of styles of the FAQ section. You just need to change the number of attribute "style" in the shortcode then you will have a new style. Of course, you still need to fix some CSS section, and in this plugin, we have 3 styles available for you to choose. All you need to do is to import the style from 1-3, for example [dw-faq style="1"], [dw-faq style="2"], [dw-faq style="3"] and you will see the difference among of them.
Lightweight
The entire JavaScript code of DW FAQ is only 17 lines in length, in addition the CSS and PHP code section is well optimized, helping your site has little change in terms of page loading speed.
Multiple Languages
The default language of DW FAQ is English. However, you can translate it to any language you want, at anytime by one of the 3 ways:
Using Plugin: qTranslate
Using Plugin: wpml
Using Poedit to translate our .pot file
Highly Compatible with Plugins and Themes
This plugin is coded in accordance with the standards of WordPress, so it is fully compatible with other WordPress themes and plugins. You can watch how DW Glossary works with DW Helpdesk Theme here: http://bit.ly/dw-helpdesk-demo. In the DW Helpdesk Theme, we have installed about 10 different plugins featured on WordPress.org as well as those created by DesignWall. Very importantly, in the process of developing this plugin, we have thoroughly tested it with the default WordPress theme. DW Glossary has proven that it works perfectly with all these themes.
Reliable Support
In addition to the features we mentioned above, we are always ready to support and listen to your comments. If you have any suggestions or questions about the product, do not hesitate to contact our support team for further customer assistance.