Beauty – Hair Salon & Spa WordPress Theme
₦148,500
Description

Introducing Beauty, a premium WordPress theme, available only on ThemeForest. With its light and clean design it's a smart choice for beauty salons, hair salons, wellness centers and similar businesses. Beauty has everything you need to take your company to the next level, but most of all it's extremely easy to set up and use: your new website we'll be ready in no time!
Scroll down to read more about Beauty and discover all its great features.

Translated to 14 languages!
English isn't your first language? Don't worry about translation, we did it for you! Beauty is now professionally translated into these languages:
Dutch (Nederlands)
French (Français)
German (Deutsch)
Italian (Italiano)
Polish (Polski)
Portuguese (Português)
Russian (Russkiy yazyk)
Spanish (Español)
Slovenian (Slovenscina)
Danish (Dansk)
Turkish (Türkçe)
Czech (Cestina)
Swedish (Svenska)



I cannot say enough about the incredible customer support for this product.
I am completely new to WordPress, and really needed some help making my site look good on desktop and mobile. Every time I have submitted a "ticket," the response has come within hours (if not minutes). Every suggestion has walked me through the fix carefully. These are some of the most friendly, patient, and courteous people I've dealt with. Also, this product is easy to use (even for a newbie) and looks great.
I would definitely buy it again, and I highly recommend it!

Really well put together!
To top it off the customization and live composer plugin integration is flawless!

They are quick to response, approachable and easy to communicate. Excellent job and design! So much happy working with them

Outstanding theme, absolutely loved it! Easy to install and learn and the results are very impressive. Thanks guys!

Very nice design and great customer support.
I've purchased a half dozen themes from Proteus Themes, and am sure to purchase more as they come out.

As a non-technical person, who has attempted to set up many themes by myself, it is important to have a theme that is user-friendly, and that provides excellent customer support. Proteus Themes certainly ticks the boxes.
Each time I have contacted them for one of my simple issues, they have answered in a clear and easy-to-follow manner. Plus if I haven't been able to understand the Direction, they have gone the extra mile to fix the problem.
On top of that, this support is lightning fast. Much appreciated.

This is the second theme I buy from ProteusTheme and again it is a classy work. I didn't have to call the support on anytime and my client is very satisfied.
5 stars!
Proudly created by ProteusThemes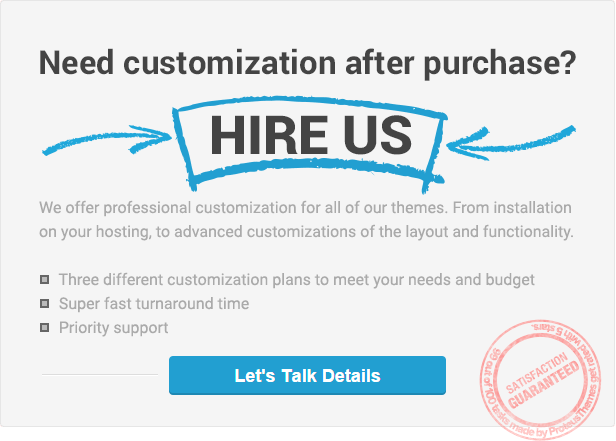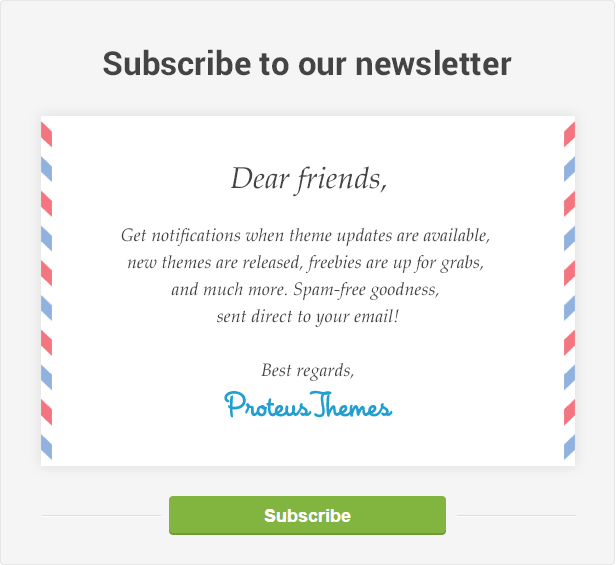 Contact / Support
We're here to help, whenever you need it! Our first-class support team is ready to answer your questions – so please get in touch with us via ProteusThemes Support if you have any suggestions or need help with any of our themes.
Want to use the images featured in the Beauty demo content?
The images shown in the demo page are copyrighted and come blurry with the theme in the demo content.
Page Builder
Beauty comes straight out of the box with an integrated Page Builder (by SiteOrigin), so you can get on with your business and not have to worry about any complex coding.
WP Customizer
Real-time WP Customizer means that all of your options are available from within your WP Admin dashboard. Make changes to page layouts on the fly with the WP Customizer and make sure you are happy with changes before you go live.
One-click demo
Like our predefined layouts? Good news! Everything can be up and running with our One-Click demo importer. All demo content will be uploaded simply and easily so that all you need to do is update your content.
Responsive Design
Responsive Design means simply that Beauty will look great across the full range of today?s devices including Touchscreen tablets and mobile devices, as well as on all of today?s modern web browsers. With best practise coding it also means that your new website will load fast, especially on mobile!
Retina ready
Retina ready is a bit of modern day buzzword, to put it simply it can mean that photography can be very dense in pixels on certain devices with Retina Displays. You don?t want to serve up poor quality imagery to those users so we have made sure that everything is optimised for a full display of brilliant colour whatever device is used.
Quality Code
Coded by WordPress Standards, developer friendly code means that you are getting best in class WordPress design. This just means that the end users have the best, fastest experience on your website.
Multilingual
Beauty is also WPML compatible – this relates to your global audience and provides a seamless experience in just about any language. Again, Plug & Play so you have no coding to worry about.
Visual Composer
Prefer Visual Composer for your page building requirements? Beauty has been developed with full compatibility for industry standard Visual Composer. This means you can just install your copy of VC and start building right from your WordPress Dashboard, we have taken care of the rest for you.
Documentation
We know our users and we know they love Video! So Beauty comes completely documented for the most simple installation or if you want to take it further make sure you Subscribe to our YouTube Channel for even more help and tutorials.
Supported Extensions & Add-ons
We know how important it is that your Theme works with the most popular WP plugins, so we made sure they are 100% compatible and ready to rock, including: Contact Form 7, Custom Sidebars, Advanced Custom Fields, Yoast SEO, WP Rocket, Simple Lightbox and WooCommerce.
Changelog
Check the changelog for Beauty.