Boulder – Multi-Purpose WooCommerce Theme
₦88,500
Description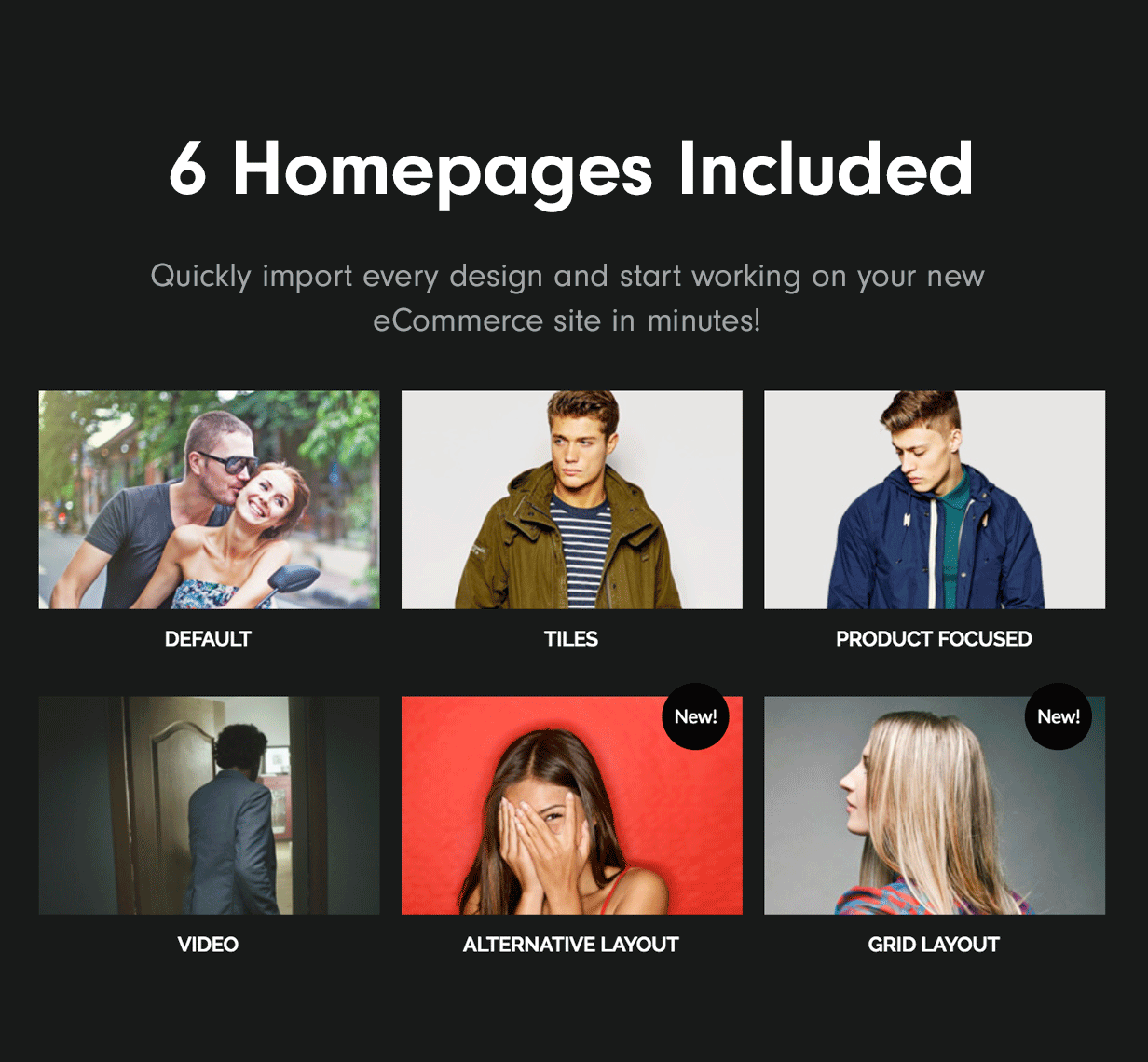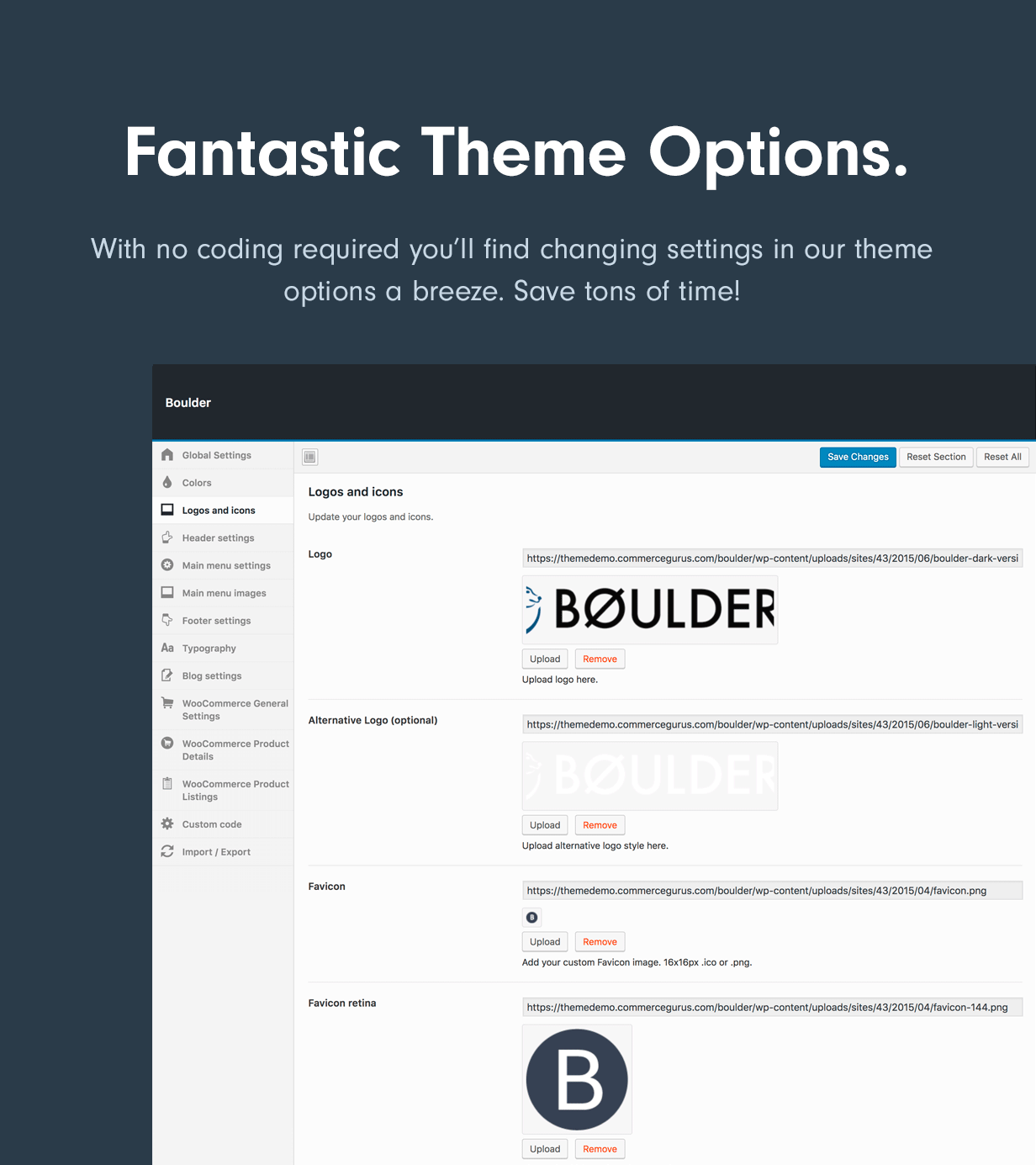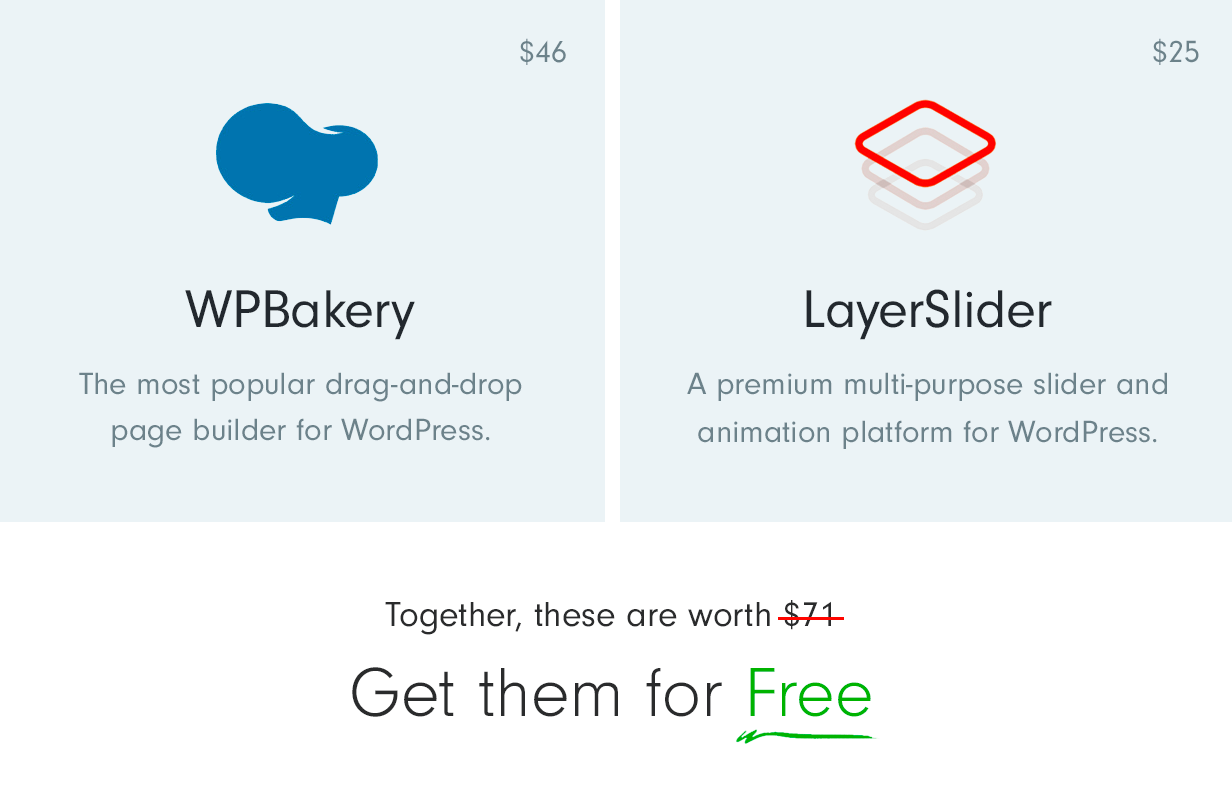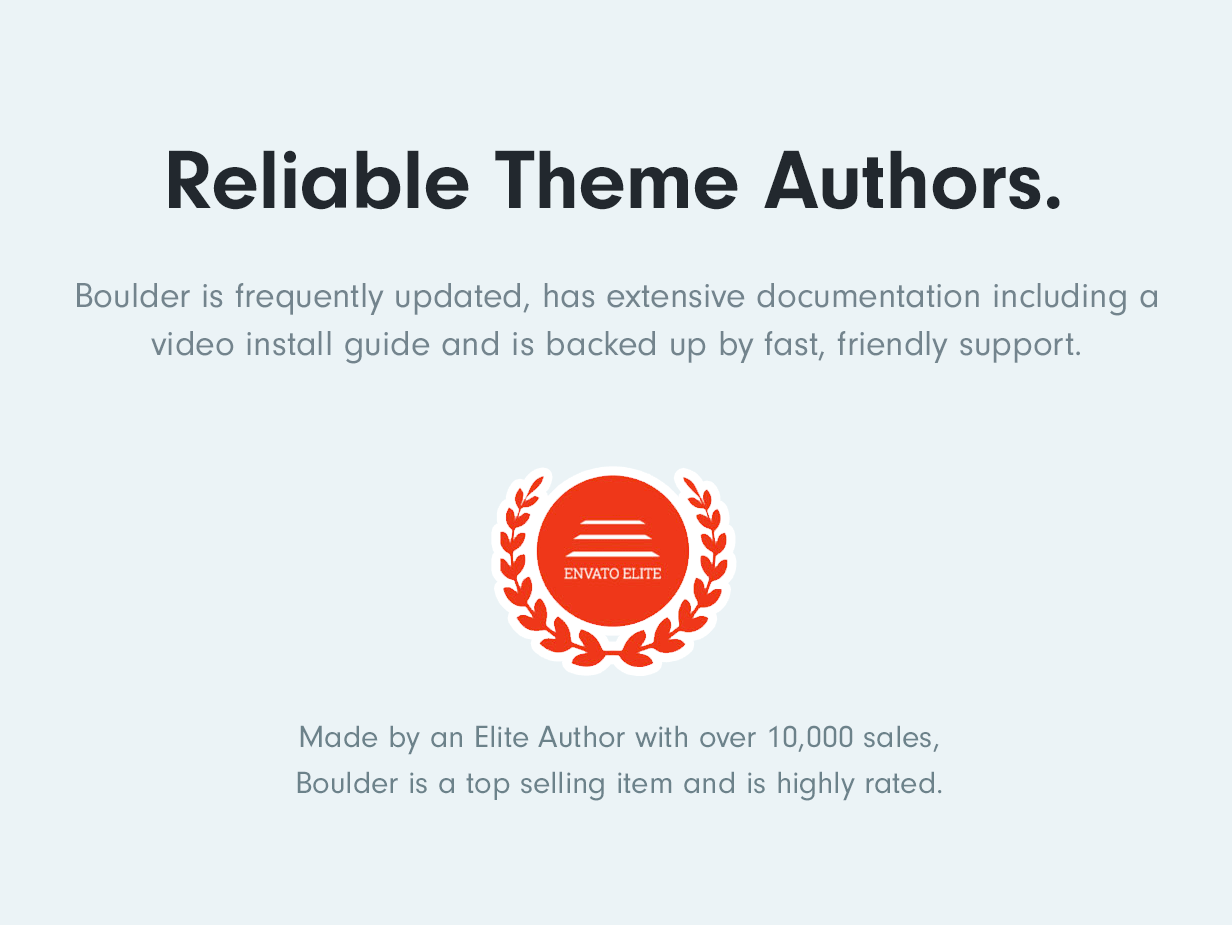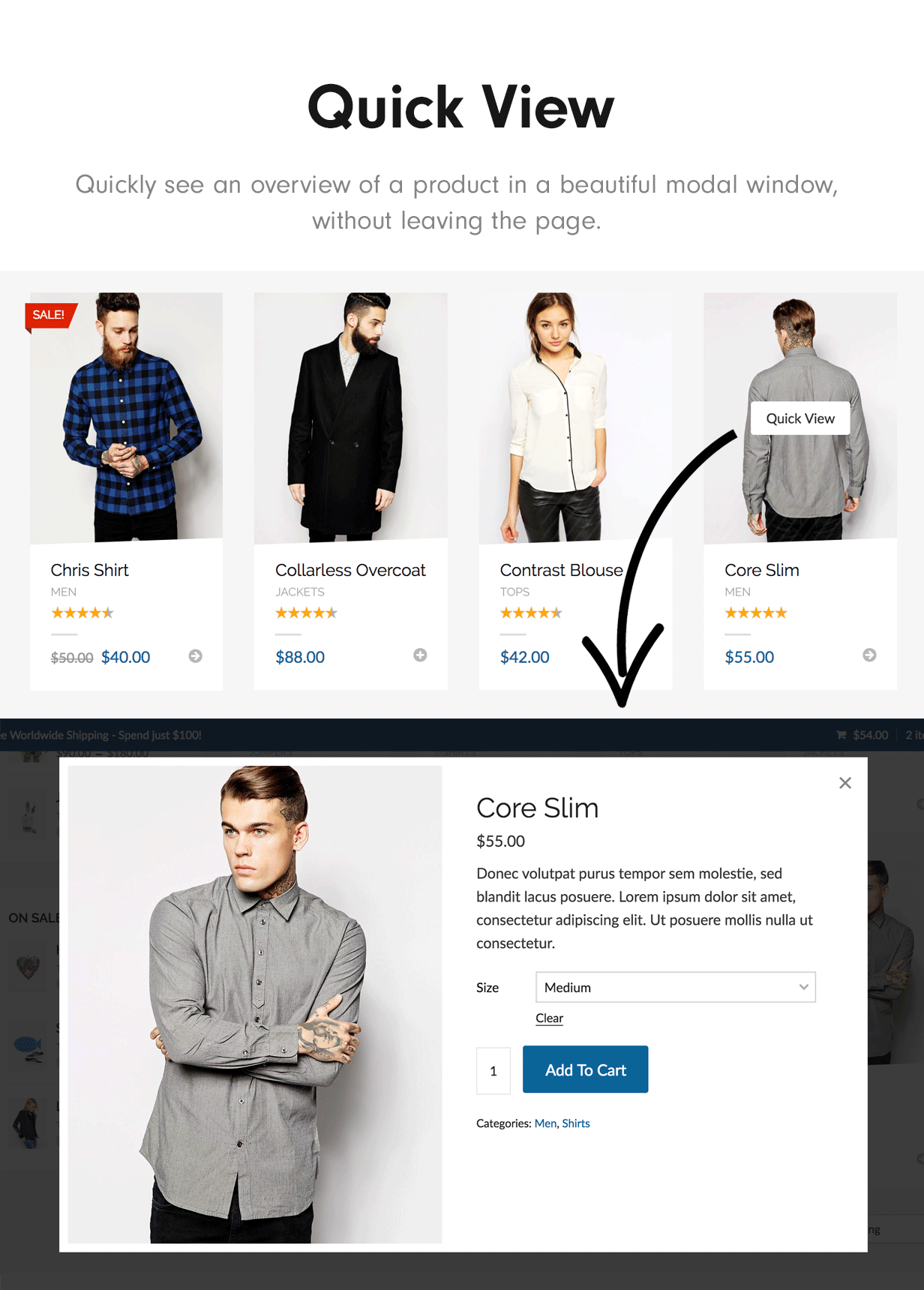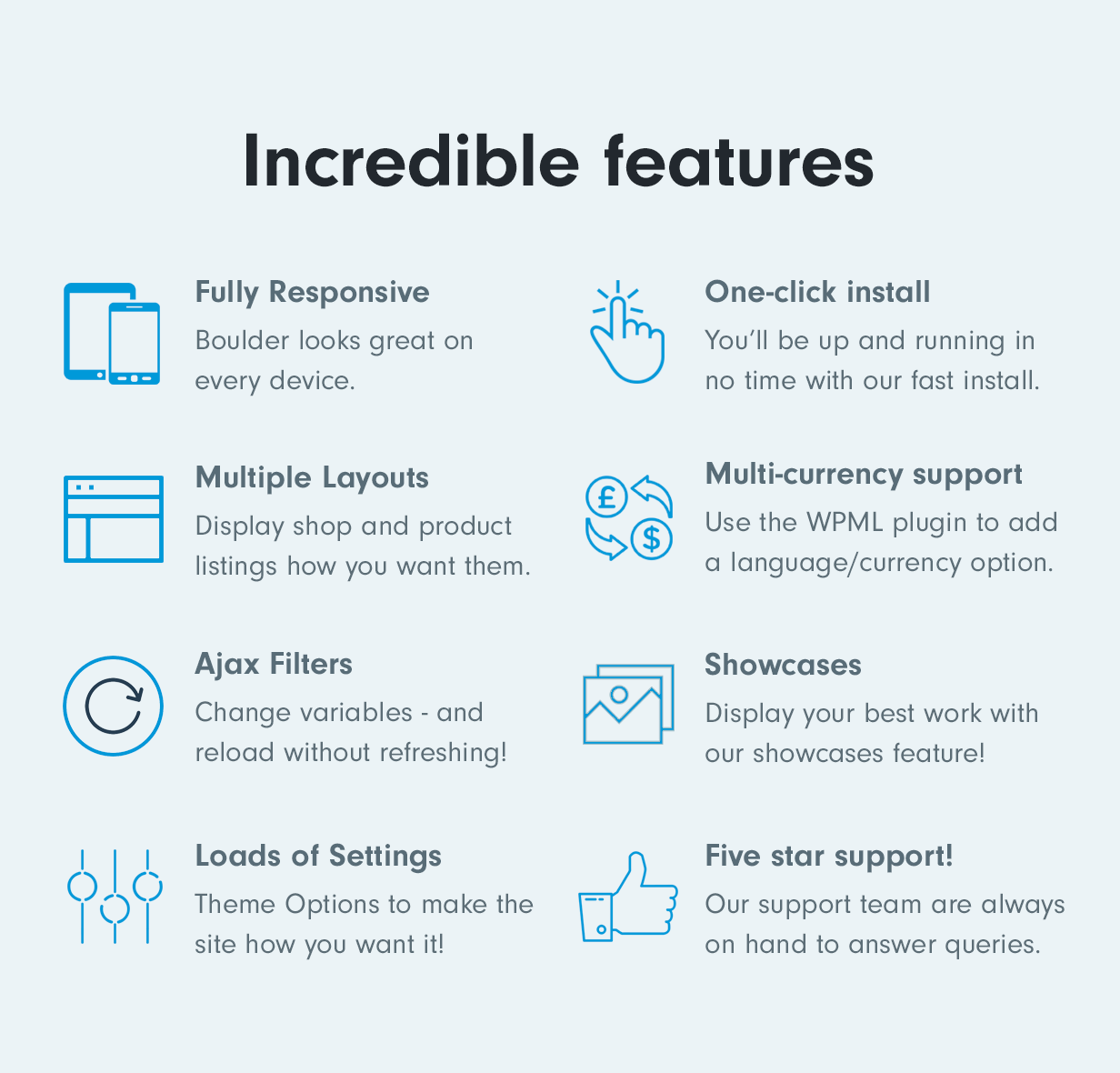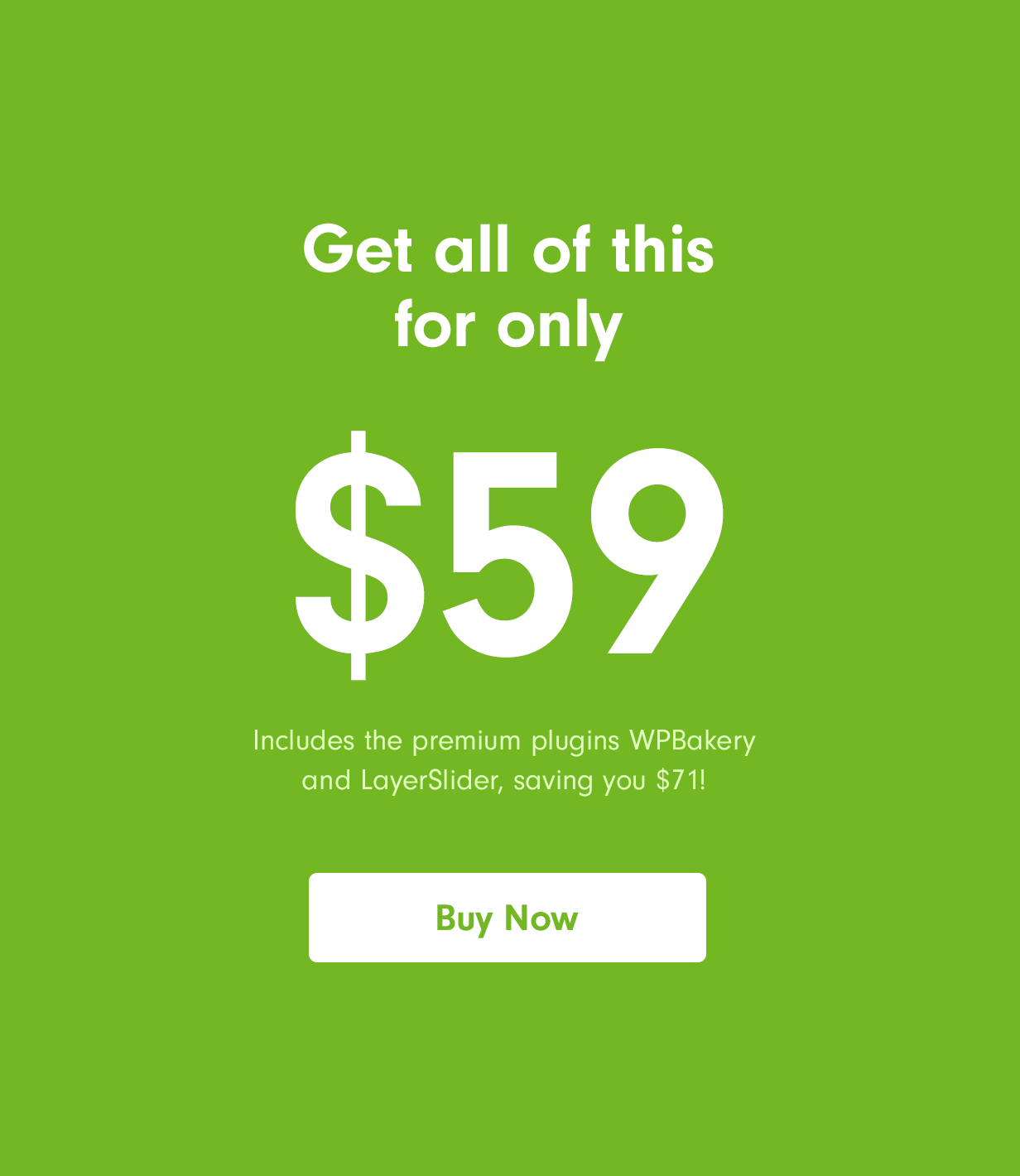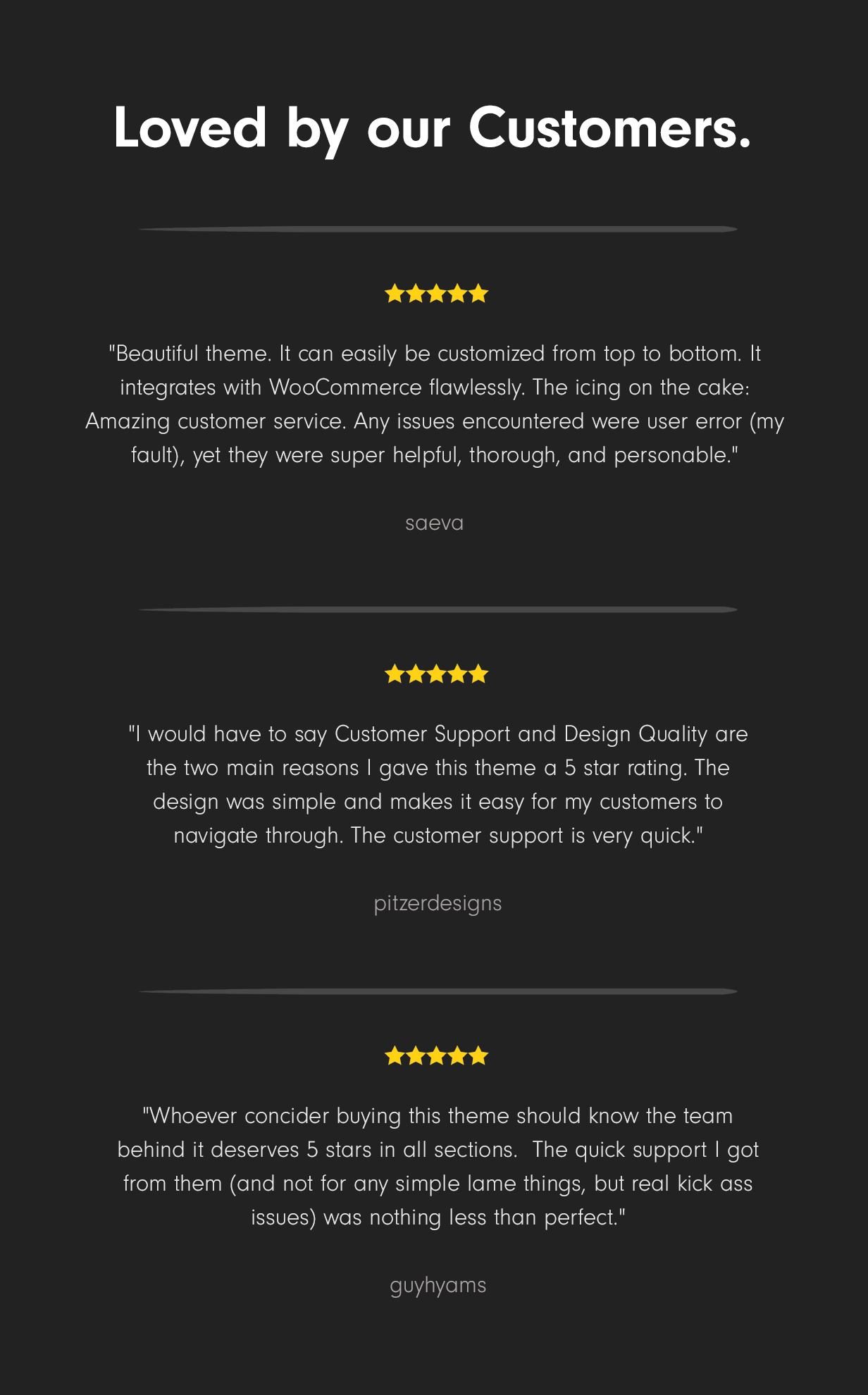 Overview
WordPress 5+ Ready
WooCommerce Ready!
WPML Ready with Language Switcher and Currency Converter (.pot file included)
Fully Responsive! Strong focus on the smartphone and tablet shopping experience
Unlimited color and typography options
CommerceGurus Toolkit – our very own WordPress plugin included to enhance WordPress and WooCommerce
Tons of deep WooCommerce enhancements and support for Wishlists, Ajax Filters, Ajax Product Search, Product Quick View and more!
Lots of multi purpose homepage templates included
RTL Ready
Step by Step Video Guides
Detailed documentation
Custom Font Icon included for unique Shopping Cart font icons
Child theme friendly
5 Star rated Elite ThemeForest Authors
World class support
Layout Features
Boxed or full width layout
Mobile friendly and retina-ready design
Sticky header
Color skins ready to use with more to come!
WPBakery included HOT!
Tonnes of Shortcodes
Left, right or no sidebars on listings and product pages
Display products in a list or grid format
Hide or show categories
Use background photos or patterns
Header Features
WPML Optimized Language and Currency Switcher Topbar HOT
Adjust the height of the regular, fixed and mobile headers
Change the color to match your brand
Plugin included: Predictive Ajax search results as you type HOT
Megamenu with image support
Select from Cart, Bag or Basket icon (plus unlimited colors!)
LayerSlider included HOT
Unlimited sliders
Pages
Contact page
About page
Services
Left and right sidebar options
Pinterest style
6 blog layouts and all the post formats (audio, video, gallery, image, quote, link, aside)
3 showcase/portfolio layouts and details page
EXTRA PLUGINS
WPBakery (value of $46)
Ajax product filters
Wishlist optional feature
LayerSlider for beautiful slideshows (value of $25)
Shop Announcements slider to highlight great offers
CommerceGurus Toolkit plugin by CommerceGurus for advanced customization
Ajax automatic search results as you type
Yoast SEO
EASY TO CUSTOMIZE
Background photo and pattern uploader
Adjust the height of the regular, fixed and mobile headers
Pre selected colors or add your own
Show 2 footers or just 1
Fully customizable design: set your color and font for each typographic selector
Show/Hide Product Quick View
Show/Hide Catalog Mode
Add a size guide to the product details page
Catalog mode – to use the theme like a catalog, without the cart option
Built-in Google fonts. Over 650 Web Fonts support with preview
AND ALSO…
SEO optimized HOT
Child theme support
Bootstrap 3 Grid
Shortcode manager with tonnes of shortcodes
404 error page
Unlimited contact forms with javascript validation HOT
Video tutorials and demo files
One click Demo Data Install
Installing the Boulder theme demo data takes just minutes allowing you to get up and running in no time at all.
The sample images are not included in the theme and are replaced with grey placeholders.

Updating the theme
See the theme update guide here. Be sure and follow each step.
Changelog
1 August 2020 – V1.9.6 Changelog

- WPBakery 6.2 supported
- LayerSlider 6.11.1 supported
- Template notice resolved.

31 March 2020 – V1.9.5 Changelog

- WPBakery 6.1 supported
- LayerSlider 6.10.2 supported
- Structured meta removed

17 November 2019 – V1.9.4 Changelog

- Templates notice resolved
- WPBakery 6.0.5 supported
- LayerSlider 6.9.2 supported

23 May 2019 – V1.9.3 Changelog

- Templates notice resolved
- WPBakery 6.0.2 supported
- LayerSlider 6.8.4 supported
- CommerceGurus Toolkit 1.8.2

11 December 2018 – V1.9.1 Changelog

- Deprecated checkout function fixed
- Visual Composer/WPBakery 5.5.6 supported
- CommerceGurus Toolkit 1.8.1

8 November 2018 – V1.9 Changelog

- PHP 7.2 support
- Visual Composer/WPBakery 5.5.5 supported
- LayerSlider 6.7.6 supported
- CommerceGurus Toolkit 1.8
- WooCommerce 3.5 compatibility
- Templates notice resolved

21 May 2018 – V1.8.4 Changelog

- LayerSlider 6.7.5 supported
- Visual Composer/WPBakery 5.4.7 supported
- Deprecated cart function removed
- Minor style tweaks

 functions.php                                | 8 ++++----
 style.css                                    | 2 +-
 woocommerce/single-product/product-image.php | 2 +-
 woocommerce/woocommerce-config.php           | 8 ++++----
 4 files changed, 10 insertions(+), 10 deletions(-)

17 February 2018 – V1.8.3 Changelog

- WooCommerce 3.3 supported
- Removed radium and replaced by One-Click installer
- Fixed negative stock issue
- CSS tweaks

File list
 css/commercegurus.css                                           |    36 +-
 functions.php                                                   |    55 +-
 inc/radium-one-click-demo-install/changelog.txt                 |     7 +
 inc/radium-one-click-demo-install/composer.json                 |    18 +
 inc/radium-one-click-demo-install/demo-files/.htaccess          |     1 +
 inc/radium-one-click-demo-install/demo-files/content.xml        | 16727 ++++++++++++++++++++++++++
 inc/radium-one-click-demo-install/demo-files/index.php          |     1 +
 inc/radium-one-click-demo-install/demo-files/theme_options.txt  |     0
 inc/radium-one-click-demo-install/demo-files/widgets.json       |     1 +
 inc/radium-one-click-demo-install/importer/parsers.php          |   633 +
 inc/radium-one-click-demo-install/importer/radium-importer.php  |   714 ++
 .../importer/wordpress-importer.php                             |  1101 ++
 inc/radium-one-click-demo-install/init.php                      |   123 +
 inc/radium-one-click-demo-install/licence.txt                   |   367 +
 inc/radium-one-click-demo-install/readme.md                     |    49 +
 style.css                                                       |     2 +-
 woocommerce/archive-product.php                                 |     2 +-
 woocommerce/checkout/review-order.php                           |     2 +-
 woocommerce/global/wrapper-end.php                              |     2 +-
 woocommerce/global/wrapper-start.php                            |     2 +-
 woocommerce/loop/loop-start.php                                 |     2 +-
 woocommerce/loop/orderby.php                                    |     2 +-
 woocommerce/loop/pagination.php                                 |     2 +-
 23 files changed, 19754 insertions(+), 95 deletions(-)

12 January 2018 – V1.8.2 Changelog

- Visual Composer 5.4.5 support
- LayerSlider 6.6.7 support
- Product Reviews template override fix
- Radium removed and replaced by One-click installer
- Minor style tweaks

File list
 css/commercegurus.css                              |   71 +-
 functions.php                                      |   19 +-
 inc/radium-one-click-demo-install/changelog.txt    |    7 -
 inc/radium-one-click-demo-install/composer.json    |   18 -
 .../demo-files/.htaccess                           |    1 -
 .../importer/parsers.php                           |   11 +-
 .../importer/radium-importer.php                   | 1008 ++++++++------------
 .../importer/wordpress-importer.php                |   35 +-
 inc/radium-one-click-demo-install/init.php         |  188 ++--
 inc/radium-one-click-demo-install/licence.txt      |    0
 inc/radium-one-click-demo-install/readme.md        |   25 +-
 style.css                                          |    6 +-
 woocommerce/single-product-reviews.php             |    2 +-
 13 files changed, 551 insertions(+), 840 deletions(-)

16 August 2017 – V1.8.1 Changelog

- Visual Composer 5.2.1 support
- LayerSlider 6.5.7 support
- CommerceGurus Toolkit 1.7.0 support
- WooCommerce 3.1 support

File list
 functions.php                                       | 15 +++++++--------
 style.css                                           |  2 +-
 woocommerce/content-single-product-sidebar-left.php |  2 --
 woocommerce/single-product/product-image.php        |  2 +-
 4 files changed, 9 insertions(+), 12 deletions(-)

9 May 2017 – V1.8.0 Changelog

- Visual Composer 5.1.1 support
- LayerSlider 6.4.0 support
- CommerceGurus Toolkit 1.6.2 support
- WooCommerce 3.0.5 support

File list
 admin/options-init.php                             |   10 +
 css/commercegurus.css                              |  123 +-
 functions.php                                      |  210 +-
 .../class-tgm-plugin-activation-enhanced.php       | 2674 --------------------
 inc/core/functions/class-tgm-plugin-activation.php |  632 +++--
 inc/core/functions/javascript.php                  |    8 -
 inc/extras.php                                     |  111 +-
 inc/template-tags.php                              |   10 -
 style.css                                          |    2 +-
 woocommerce/checkout/thankyou.php                  |   72 -
 woocommerce/content-product-upsells.php            |   14 +-
 woocommerce/content-product.php                    |   54 +-
 .../content-single-product-cg-quickview.php        |   90 +-
 woocommerce/content-single-product-no-sidebar.php  |   49 +-
 .../content-single-product-sidebar-left.php        |   65 +-
 .../content-single-product-sidebar-right.php       |   64 +-
 woocommerce/content-single-product.php             |   53 +-
 woocommerce/loop/result-count.php                  |   35 -
 woocommerce/single-product/meta.php                |   45 +-
 woocommerce/single-product/price.php               |   32 -
 woocommerce/single-product/product-image.php       |  333 ++-
 woocommerce/single-product/related.php             |   67 -
 woocommerce/single-product/up-sells-bottom.php     |   43 +-


21 January 2016 – V1.7.2 Changelog

- Visual Composer 5.0.1 support
- LayerSlider 6 support
- CommerceGurus Toolkit 1.6.1 support
- Structured metadata enhancements

File list

 content-fullwidthpage.php                       |   4 --
 content-page.php                                |   4 --
 content-single.php                              |   4 --
 content-wcfullwidthpage.php                     |   4 --
 css/commercegurus.css                           |  12 -----
 functions.php                                   |  59 +++++++++---------------
 inc/plugins/commercegurus-toolkit.zip           | Bin 0 -> 147451 bytes
 inc/plugins/js_composer.zip                     | Bin 0 -> 4491710 bytes
 inc/plugins/layersliderwp-5.6.9.installable.zip | Bin 0 -> 6202076 bytes
 inc/template-tags.php                           |  30 ++++++------
 style.css                                       |   4 +-
 woocommerce/content-product_cat.php             |   2 +-
 13 files changed, 42 insertions(+), 84 deletions(-)


20 July 2016 – V1.7.1 Changelog

- LayerSlider 5.6.9 support
- WooCommerce 2.6.3 support
- minor php fixes

16 June 2016 – V1.7 Changelog

- WooCommerce 2.6 Support
- minor css fixes

14 April 2016 – V1.6 Changelog

- Visual Composer 4.11.2 support
- minor php fixes

30th January 2016 – V1.5 Changelog

- WooCommerce 2.5.X compatibility
- minor css and php fixes

File list

 css/commercegurus.css               | 24 +++++++++++++++++++++++-
 customvc/vc_templates/vc_row.php    | 55 ++++++++++++++++++++++++++++---------------------------
 functions.php                       | 14 ++++++++++++++
 single-showcases.php                |  9 +++++++--
 style.css                           |  2 +-
 woocommerce/content-product.php     |  2 +-
 woocommerce/content-product_cat.php |  2 +-
 7 files changed, 75 insertions(+), 33 deletions(-)


18th November 2015 – V1.5 Changelog

- WooCommerce 2.4.10 compatibility
- update to Visual Composer 4.8.1
- minor css fixes

File list

 customvc/vc_extend.php                 | 2001 +++++++++++++++++---------------
 customvc/vc_templates/vc_row.php       |   59 +-
 customvc/vc_templates/vc_separator.php |   41 +-
 functions.php                          |    4 +-
 inc/plugins/commercegurus-toolkit.zip  |  Bin 137765 -> 144729 bytes
 inc/plugins/js_composer.zip            |  Bin 4139628 -> 4142204 bytes
 style.css                              |    2 +-
 woocommerce/single-product/price.php   |   19 +-
 8 files changed, 1101 insertions(+), 1025 deletions(-)


7th October 2015 – V1.4 Changelog

- fix for Google map bug
- update to Visual Composer 4.7.4
- update to Layer Slider 5.5.1
- minor css fixes

File list

 css/commercegurus.css                              |   22 +-
 css/responsive.css                                 |    5 +-
 functions.php                                      |   19 +-
 inc/core/functions/class-tgm-plugin-activation.php | 3623 +++++++++++++++++++++++++++++++++++++++++++++++++++++++++++++++++++++++++++++++++++
 inc/plugins/js_composer.zip                        |  Bin 4024594 -> 4139628 bytes
 inc/plugins/layersliderwp-5.5.0.installable.zip    |  Bin 6191185 -> 0 bytes
 inc/plugins/layersliderwp-5.5.1.installable.zip    |  Bin 0 -> 6386281 bytes
 style.css                                          |    2 +-
 9 files changed, 3642 insertions(+), 33 deletions(-)


12th August 2015 – V1.3.1 Changelog

- support for WooCommerce 2.4.2
- added Layerslider 5.5
- added Visual Composer 4.6.2

File list

 functions.php                                   |   6 +++---
 inc/plugins/js_composer.zip                     | Bin 3725100 -> 4024594 bytes
 inc/plugins/layersliderwp-5.4.0.installable.zip | Bin 6374073 -> 0 bytes
 inc/plugins/layersliderwp-5.5.0.installable.zip | Bin 0 -> 6191185 bytes
 style.css                                       |   2 +-
 woocommerce/single-product/tabs/tabs.php        |   4 ++--
 6 files changed, 6 insertions(+), 6 deletions(-)


11th August 2015 – V1.3 Changelog

- support for WooCommerce 2.4
- fixes for iPad display
- rtl improvements
- menu display fixes
- fix for background color on menu dropdown

File list

 admin/options-init.php                             |  35 +++---
 archive.php                                        |   2 +-
 css/commercegurus.css                              | 138 ++++++++++-----------
 css/responsive.css                                 |   8 +-
 inc/core/css/custom-css.php                        |  33 ++---
 .../demo-files/widgets.json                        |   2 +-
 index.php                                          |   2 +-
 rtl.css                                            |   2 +-
 style.css                                          |   2 +-
 woocommerce/content-product.php                    |   9 +-
 woocommerce/content-product_cat.php                |   2 +-
 woocommerce/single-product/tabs/tabs.php           |   2 +-
 12 files changed, 115 insertions(+), 122 deletions(-)


17th June 2015 – V1.2 Changelog

- lots of rtl improvements
- updated to Visual Composer 4.5.3
- lots of minor css and typography improvements

File list

 admin/options-init.php                             |     8 +-
 css/commercegurus.css                              |    23 +-
 functions.php                                      |     9 +-
 inc/core/css/custom-css.php                        |     7 +-
 .../demo-files/content.xml                         | 10235 ++++++++++---------
 js/src/cond/livepreview.js                         |     2 +
 style.css                                          |     2 +-
 yith-woocommerce-ajax-search.php                   |     2 +-
 8 files changed, 5436 insertions(+), 4852 deletions(-)


10th June 2015 – V1.1.1 Changelog

- fix for latest version of YITH Ajax Search plugin
- fix for menu images
- updated demo content
- fix for 4 col list layout

File list

 admin/options-init.php                             |     8 +-
 css/commercegurus.css                              |    23 +-
 functions.php                                      |     9 +-
 inc/core/css/custom-css.php                        |     7 +-
 .../demo-files/content.xml                         | 10235 ++++++++++---------
 js/src/cond/livepreview.js                         |     2 +
 style.css                                          |     2 +-
 yith-woocommerce-ajax-search.php                   |     2 +-
 8 files changed, 5436 insertions(+), 4852 deletions(-)


3rd June 2015 – V1.1 Changelog

- fix for minor VC bug
- improved header theme options
- updated demo data