HomePress – Real Estate WordPress Theme
₦44,250
Description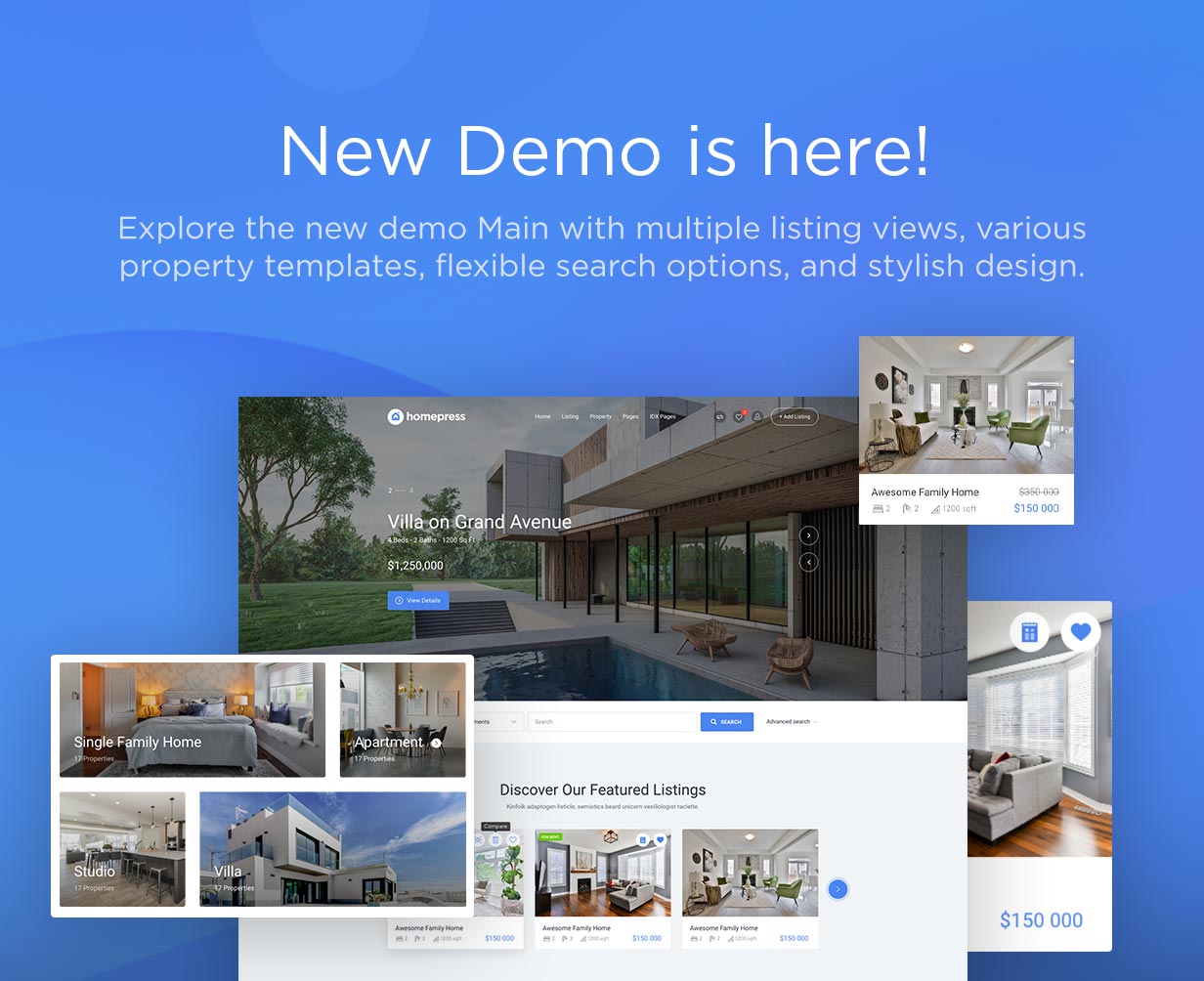 Real Estate WordPress Theme – HomePress
HomePress is a premium Real Estate WordPress Theme from StylemixThemes featured by powerful uListing plugin. Use HomePress to create amazing Real Estate listings website or Real Estate marketplace that your customers will love to surf. HomePress theme is easy to use on frontend as well as in admin's perspective. This gives a fresh breeze to the Properties management website.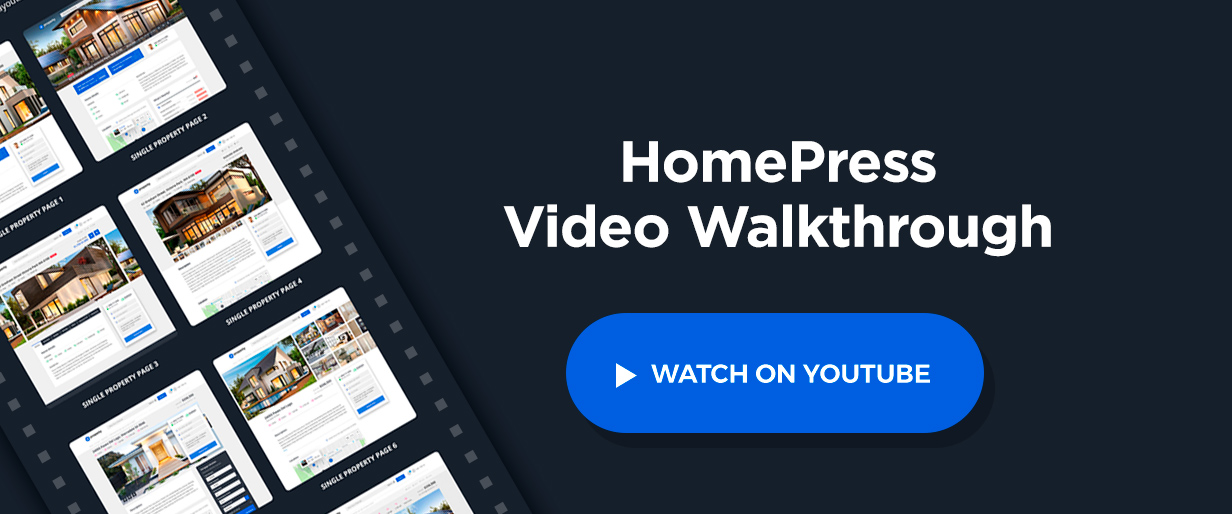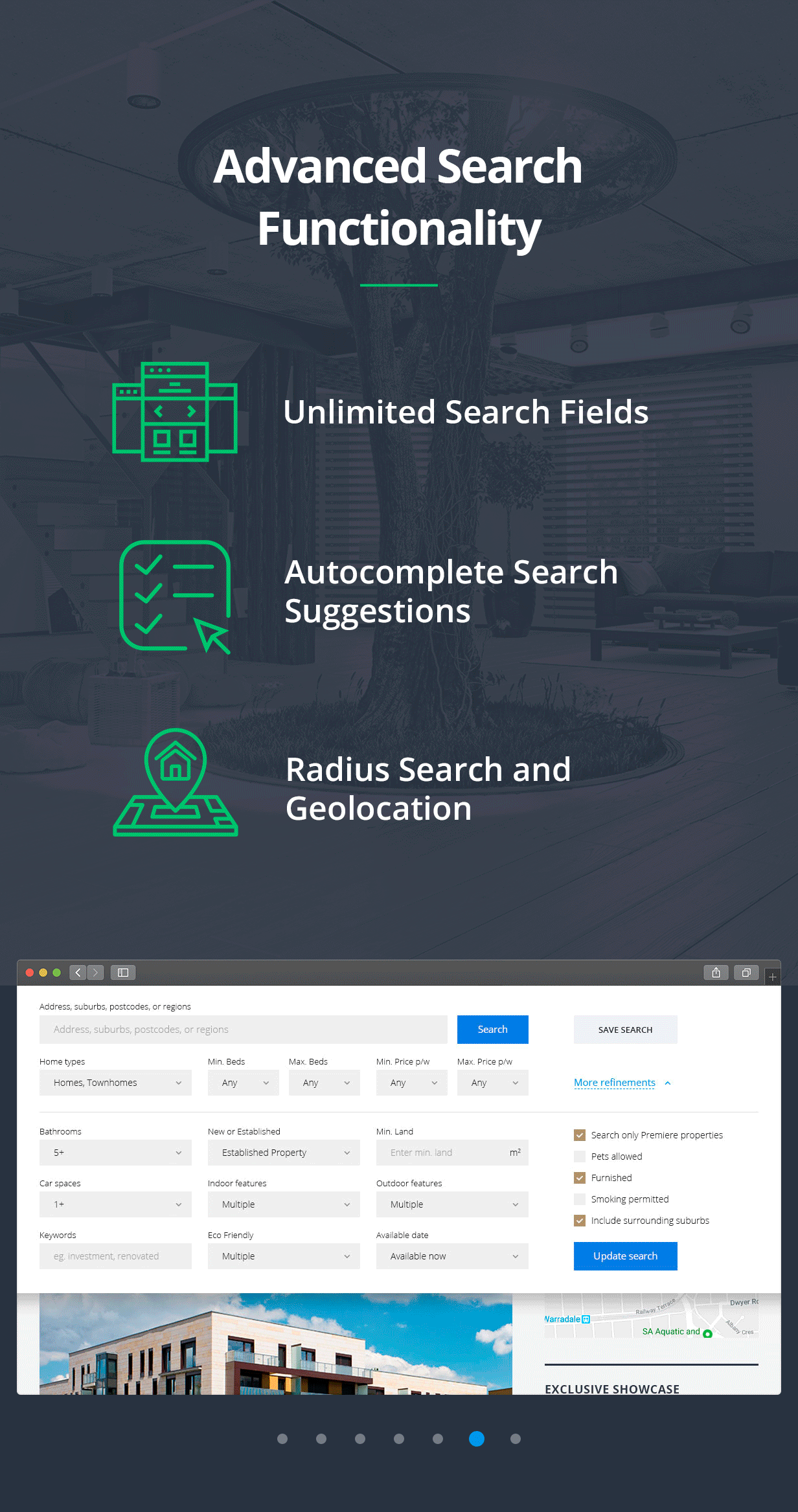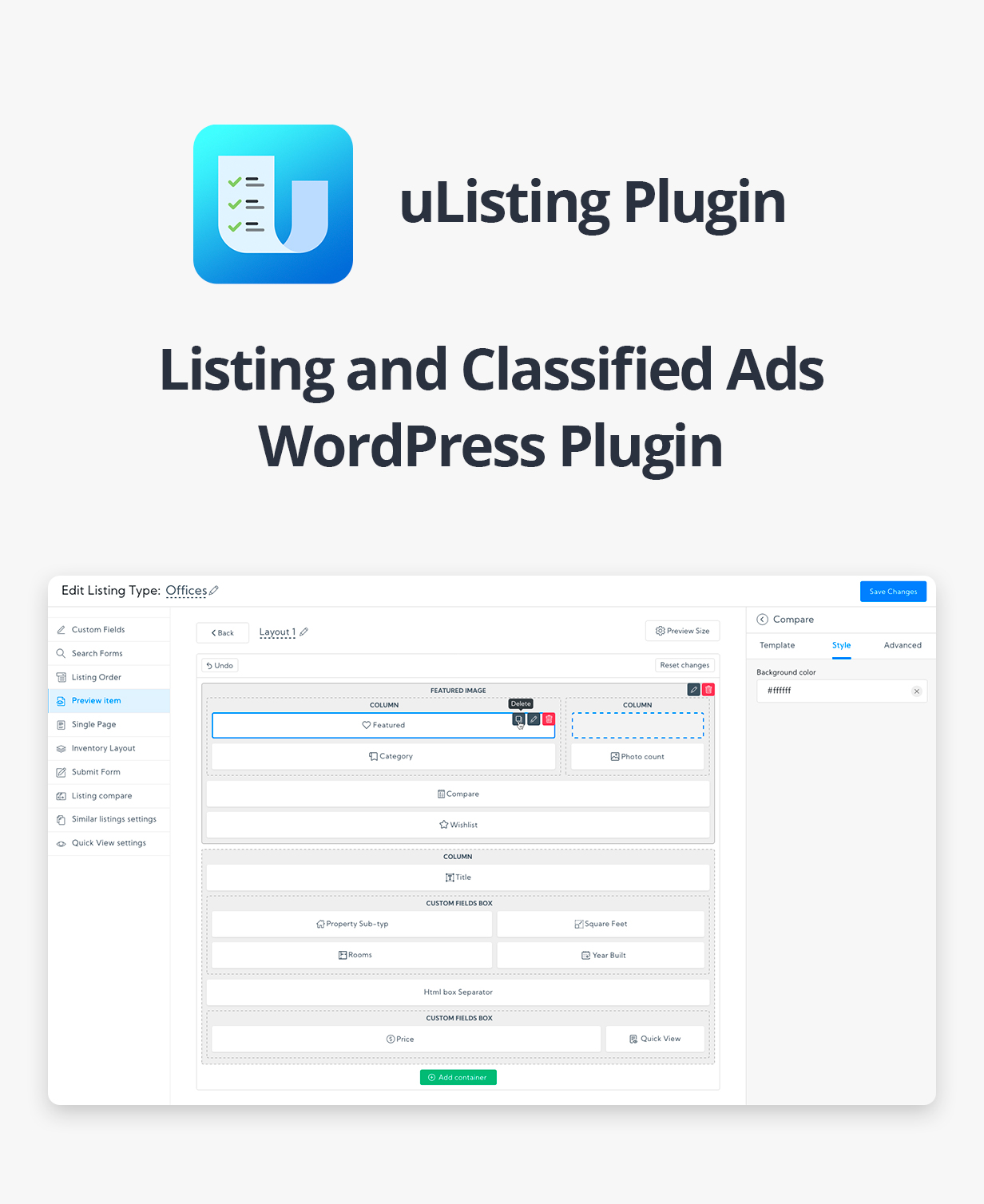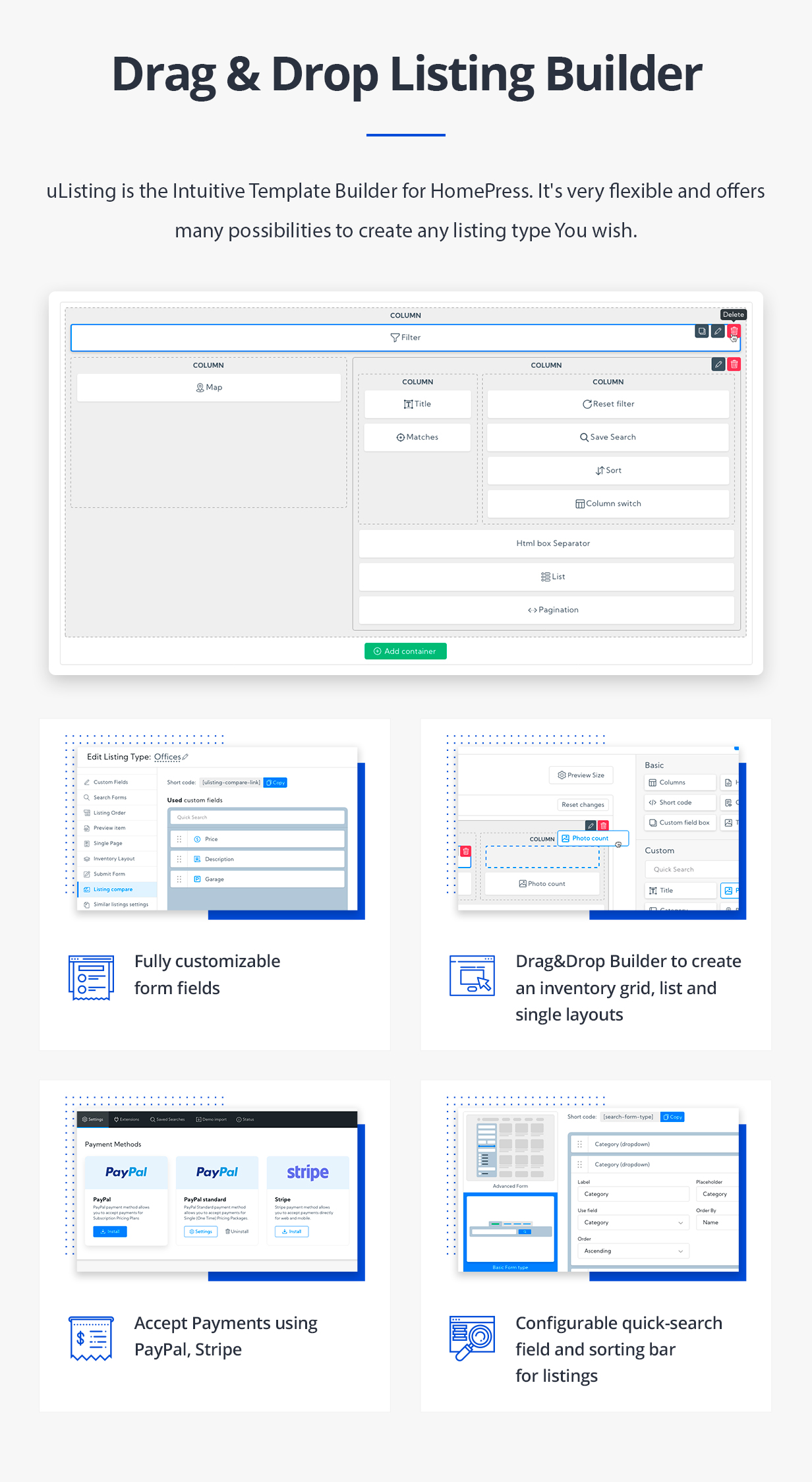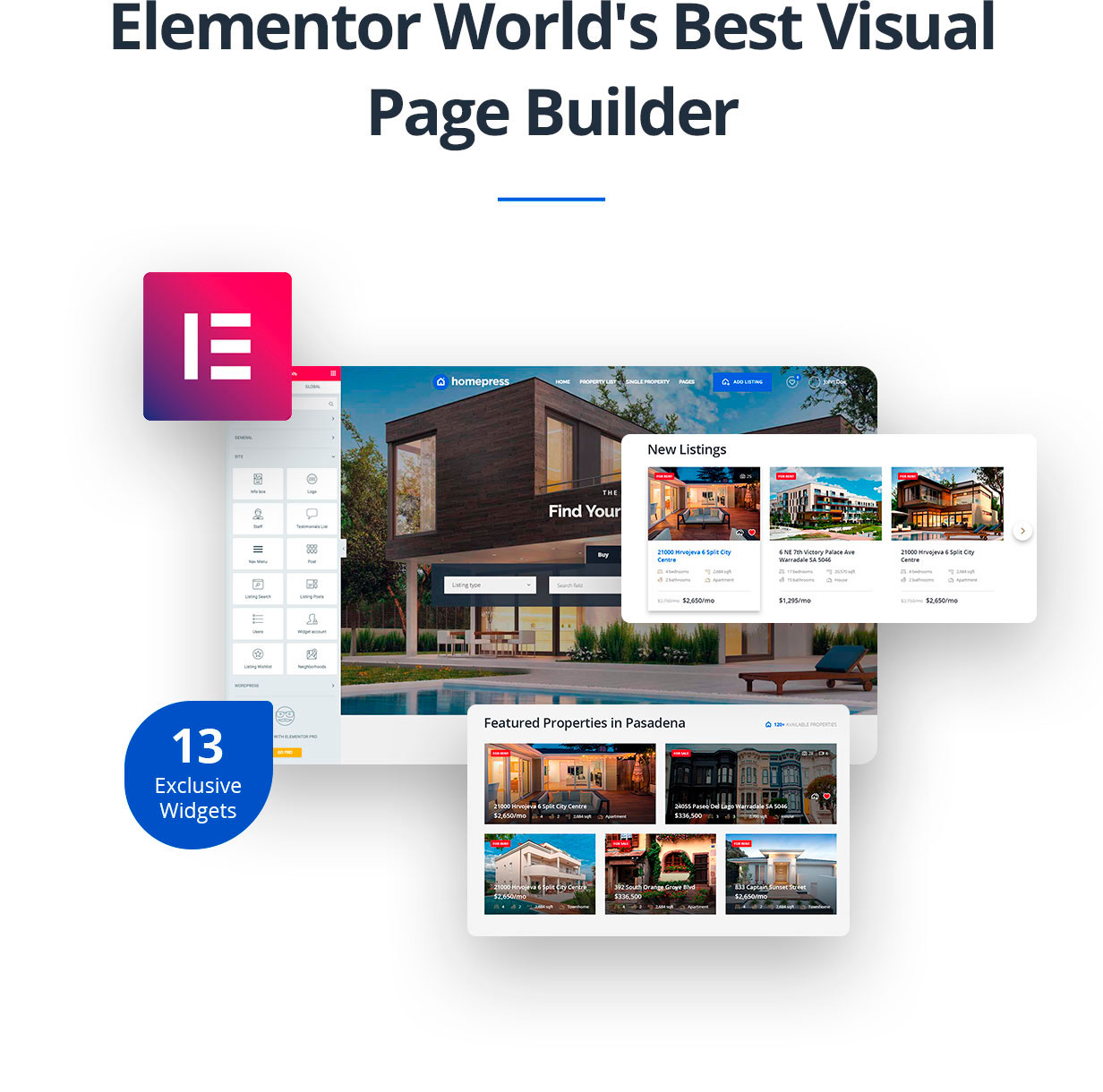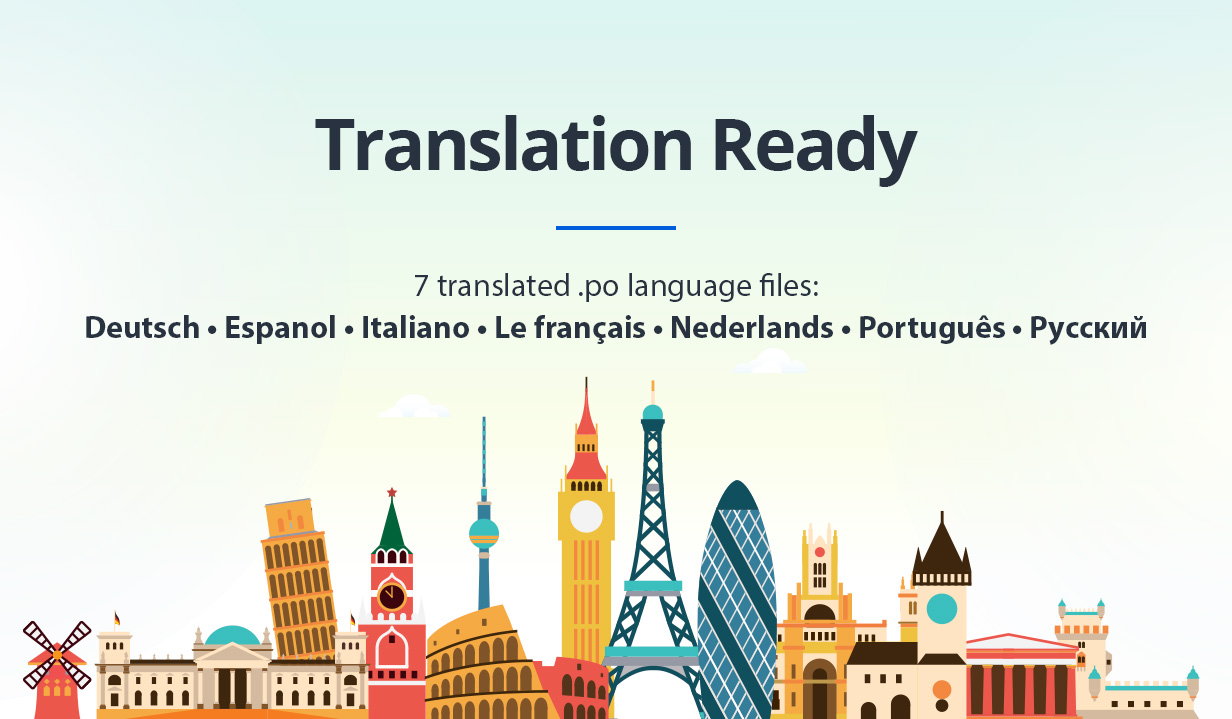 The HomePress has all the flexibility you need to provide the best user experience.
10 premade homepages are available to get you started in seconds. All available demos are created with theme admin options which you can enable/disable quickly. uListing is one of the best real estate WordPress theme with impressive design of real estate Listings.
HomePress has a hot demo switcher. That allows you to install any other demos without losing your content.
Theme comes with built-in uListing plugin – a new amazing classified ads listing plugin from StylemixThemes. uListing plugin features:
Listing builder
Inventory Builder
Unlimited Custom Attributes
This takes HomePress theme to a whole new level.
General Features
uListing Plugin
uListing is a new groundbreaking classified ads listing plugin from StylemixThemes. If you wanted to create a professional business listing site on WordPress without spending a big sum, than uListing is exactly what You need. With our free plugin you can create a listing business in a matter of minutes and you don't even need a premium WordPress theme. uListing plugin is built on Vue.js with care and love, so to make your experience with the plugin as easy and pleasant as possible.
iDX Broker Plugin Compatible
What is IDX?
HomePress theme has integration with IDX plugins. This means that if you install one of the IDX plugins, it will not interrupt its functionality and will work smoothly. But you will be able to use only the components of the plugin. In other words, data you will import via IDX can be managed only with the plugin options, and the theme options cannot be applied to it. The reason for this is the different database of IDX, which is not accessible for themes.
Please note IDX plugins are not required for theme installation and use. They are optional.
Yet, if you decide to use it, keep in mind that you will use the plugin as it goes with its original design and features. Also, IDX is not free, and the usage of it requires a monthly subscription.
YELP! Plugin Integration
Yelp: Food, Shopping, Services Nearby?
Yelp has over 135 million restaurant and business reviews worldwide. Yelp puts great local businesses right at your fingertips. Discover new foods, hot spots, places for shopping and local businesses near you! On your travels or at home. Plus, order delivery or pickup.
Learn more about Yelp – https://yelp.com
HomePress theme is well integrated with Yelp. Just choose the needed category and voila, nearby services of the chosen category will appear in the properties page.
You will never miss best offered services near your place!
Statistics Matters
Each property page has an optional page statistics view. That gives property owners and agencies the ability to see audience numbers in their properties page. It can be very helpful to create a perfect property page that will engage more audience. Plus audience also can see that statistics in properties page, so the better statistics are, the more audience this page will get. That's why statistics matters and HomePress gives you the best of it!
Easy to Get Started
Do you like the demo? Import the provided sample content in a few clicks and start editing it right away.
Elementor Page Builder
Elementor Page Builder comes with an exclusive toolset, that lets you create a truly responsive website in a whole new and visual way.
Quick View
Quick View feature makes it possible for your customers to see the product details and access the information without having to go to the individual product page and add it to the shopping cart making the checkout quicker.
Contact Forms
Create advanced contact forms and implement them on any page you like with MailChimp and Contact Form 7
Video Backgrounds
Impress your audience even further by placing stunning videos as your header backgrounds.
Custom Elements
Choose from a number of pre-designed Elementor components and lay out your pages in mere minutes
Typography Options
Choose from any of the Google fonts to match your brand identity without compromise
Google Maps, OpenStreetMap and MapBox integrations
Choose the best option to control and manage map data on your website.
Besides the Google Maps, HomePress provides OpenStreetMap integration – a free mapping source allowing to display and edit maps with properties markers, lists and detail page. Give your users an opportunity to browse properties through OpenStreetMap or switch to one more option – Mapbox.
Mapbox is a flexible service that provides you and your website users with a great mapping and navigation experience. Its design tools and mapping libraries will make dynamic and customized maps that meet your requirements.
Radius Search
Search properties by their proximity to you in kilometers or miles on all search pages
Geo Autocomplete Options
Control the autocomplete for geolocations by optionally drop-down results to a specific country
Similar Properties
Keep visitors on your site by showing properties similar to the one they're viewing
Nearby Places
Make property information more complete by showing what's around them powered by Yelp
Property Features
Choice of Listing Templates
Choose from 10+ different listing templates and lay them out as lists or grids, full-width.
Property Templates
Choose between 5+ single listing layouts that let your visitors access your offers and easily get in touch with your agent
Property Settings
Create property listings with all the features you'd expect: area size, price range, amenities and more
Advanced Search
Help your visitors find the right property by letting them set various search criteria such as size and price range
Powerful Filters
Our advanced filters allow your clients to fine-tune their search results and focus on the details that matters the most
Help your visitors stay organized by letting them favorite the properties they like or want to book a visit for.
Mortgage Calculator
Quickly calculate mortgage payments for properties with our easy-to-use Mortgage Calculator widget
Property Stats
Display the stats of your property page views by using one of the provided chart layouts
360° Virtual Tour
Create interactive virtual tours and simulations for your properties and show off as much as possible before a real-life viewing
Compare Properties
Let your users compare different properties based on their features and parameters
Gallery Images
Promote your properties with image galleries that are easy to create, nice to look at and a breeze to scroll through
Membership Features
Payment Gateways Integration
Receive payments with PayPal, Stripe – the theme fully supports popular payment solutions.
PayPal Integration
Connect to your PayPal account (with just a few clicks) and you are ready to receive money with no hassle
Stripe Integration
Start accepting payments with Stripe and start processing credit and debit cards professionally
FEATURES
Full Localization in 7 languages: German, Italian, Dutch, Spanish, French, Portuguese, Russian
Hot Demo Switcher
Elementor Page Builder
20+ Exclusive Custom Modules for Elementor
1-сlick Installer
PSD files Included
High-Speed Performance
SEO Optimised
Flexible Page Layouts
Responsive Design
Regular Update
Contact Form 7 – Ready
MailChimp – Ready
24/7 Professional Support
Documentation Included
Google Web Fonts
Quick View Feature
Custom Fonts, icons
Font Awesome icons
Online and Offline Payments
Accept payment online via PayPal or Stripe.
GDPR Compliant
Your guests will find the checkbox for opt-in consent below each booking form to accept your website terms and conditions before reservation.
Full Localization in 7 languages
German, Italian, Dutch, Spanish, French, Portuguese, Russian
Responsive & Mobile Friendly
HomePress is 100% responsive and looks great on all devices.
Changelog

Important: Please be sure you check out the demo and ask all the questions to know about the theme features before purchase (you can use the comment board for all presale questions). Purchases done by mistake or for features that don't exist cannot be refunded.
Please note some photos & images are not included in the Demo Import because of license restrictions!
Please do not hesitate to contact us on Themeforest. If you face problems with this template just send us an email. We can also customize this template for an extra charge.