Karton | Multipurpose WooCommerce Theme
₦58,500
Description
You May Also Like This Minimal Fashion WooCommerce Theme
Woolea | Minimal WooCommerce Theme
Karton is a Multipurpose WooCommerce Theme designed for all kinds of e-commerce websites like clothes, electronics, fashion, furniture, jewelry, organic, product landing page, modern shop, minimal store, etc. based on WooCommerce. It comes with 13 stunning Multipurpose Ready Store/homepage demos and a bundle of modern e-commerce features and functionality to build an amazing online store for any purpose. This theme has developed based on Elementor Page Builder. Also integrated with multi-vendor Dokan Marketplace. Anyone can easily update/edit this theme by following our Well Sorted Online Documentation.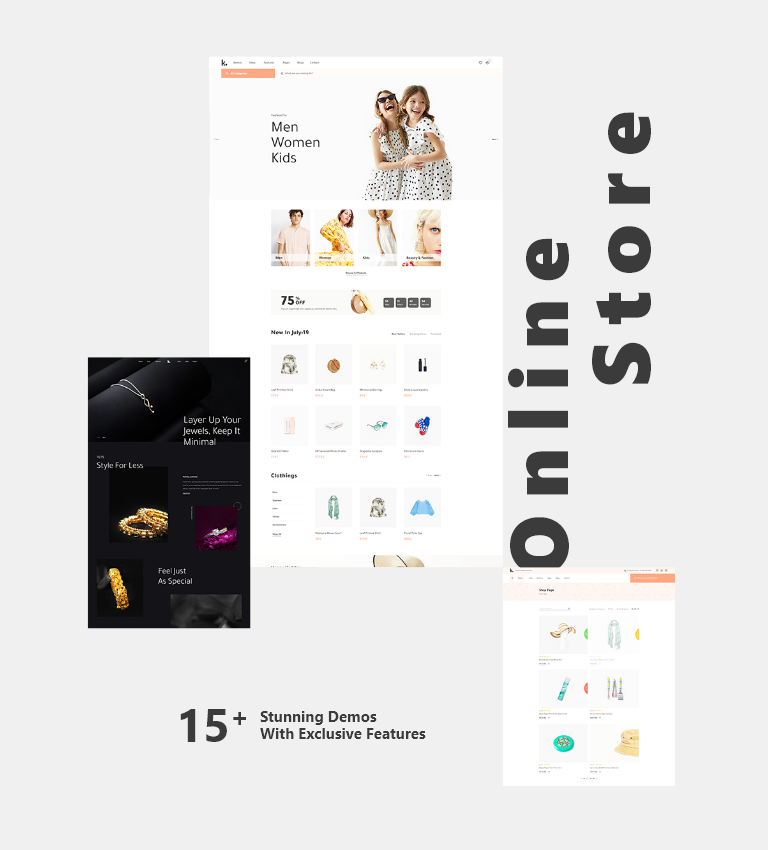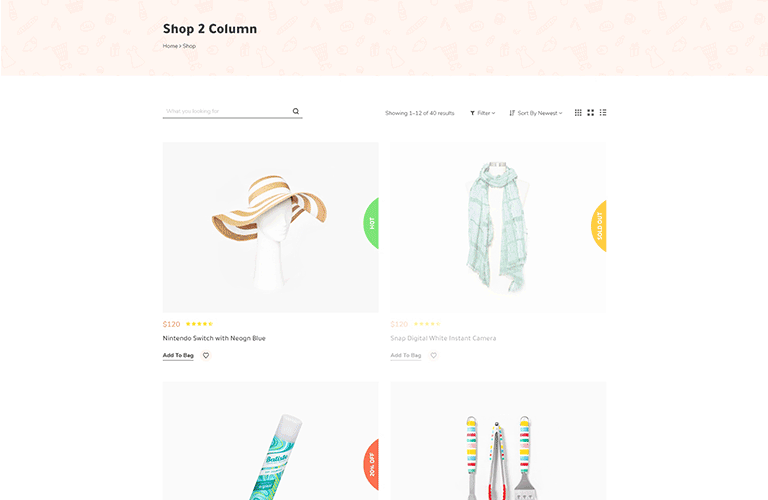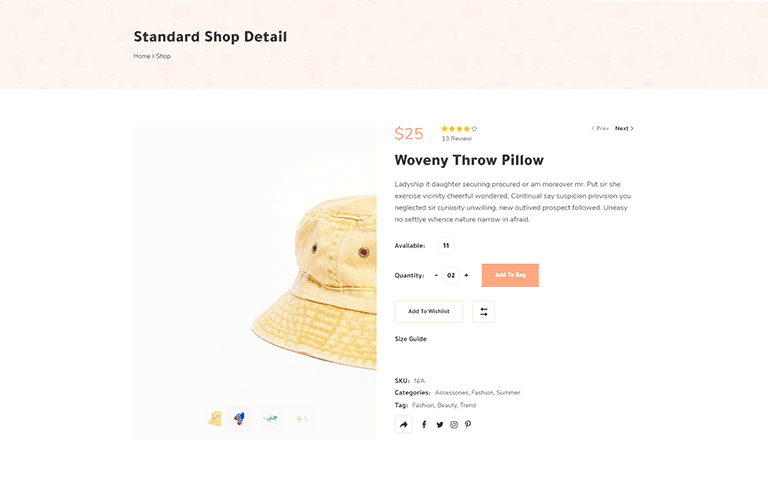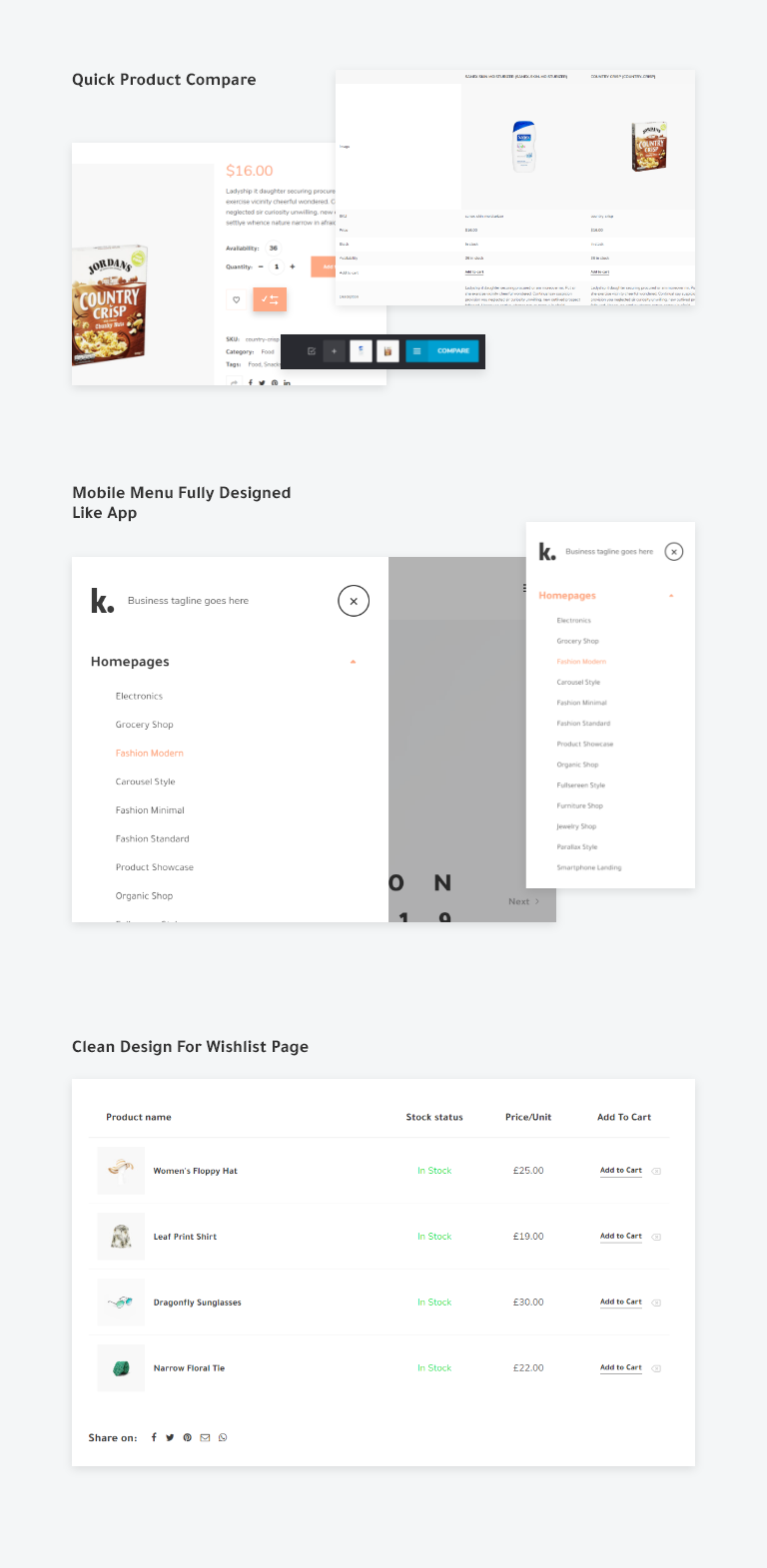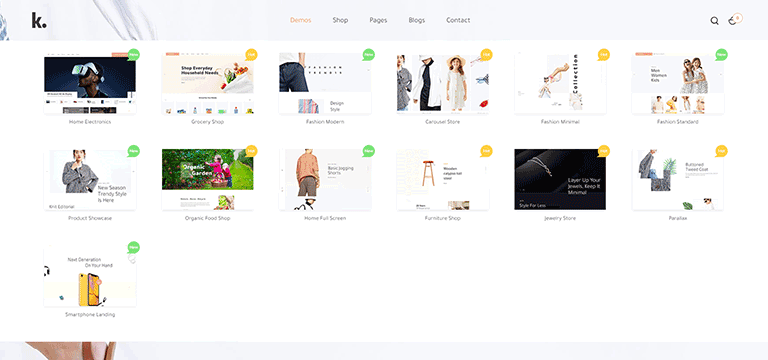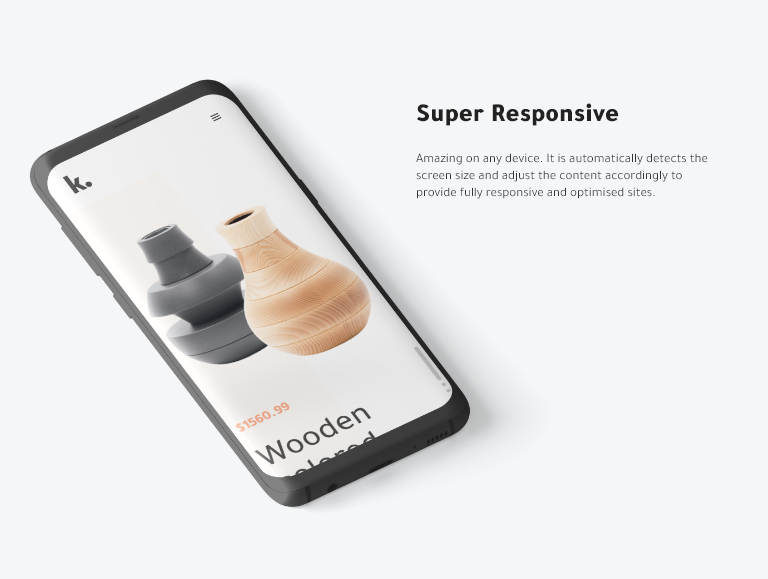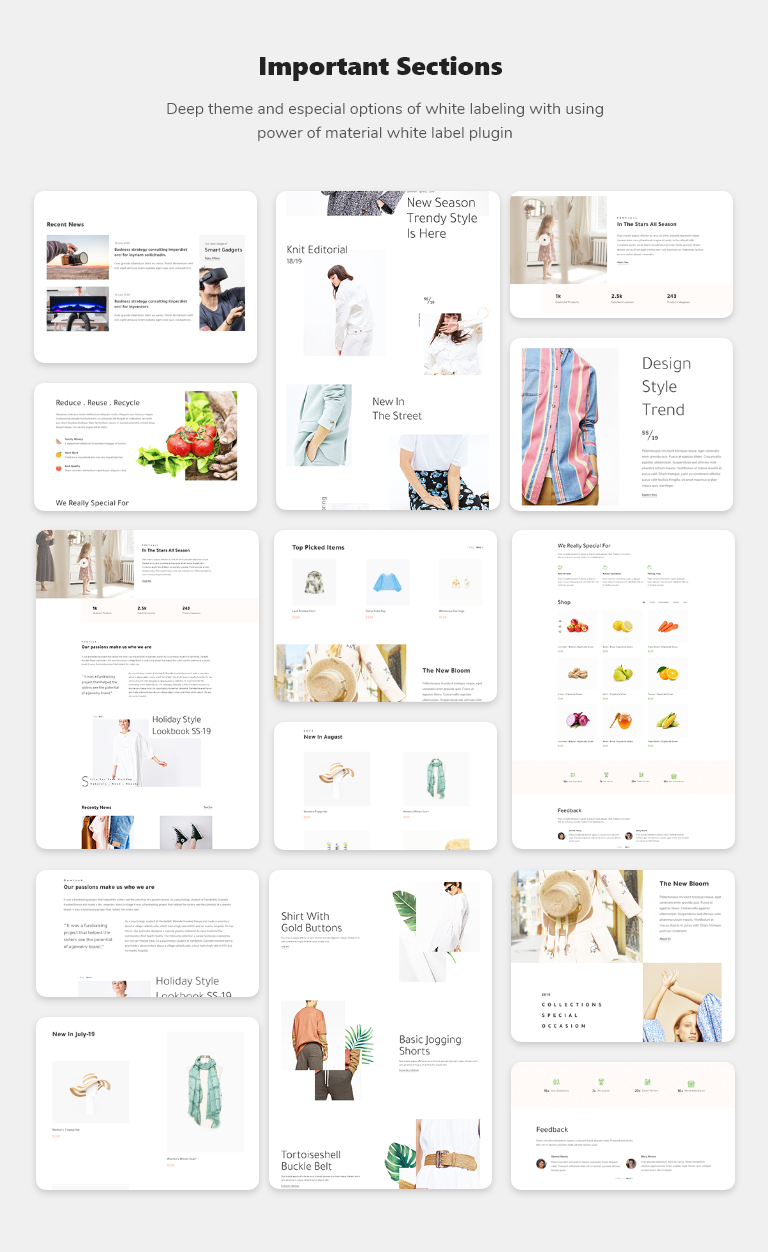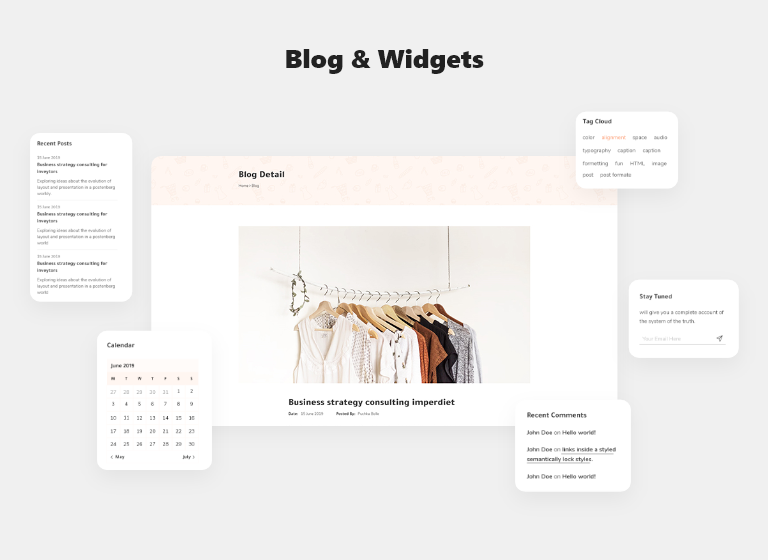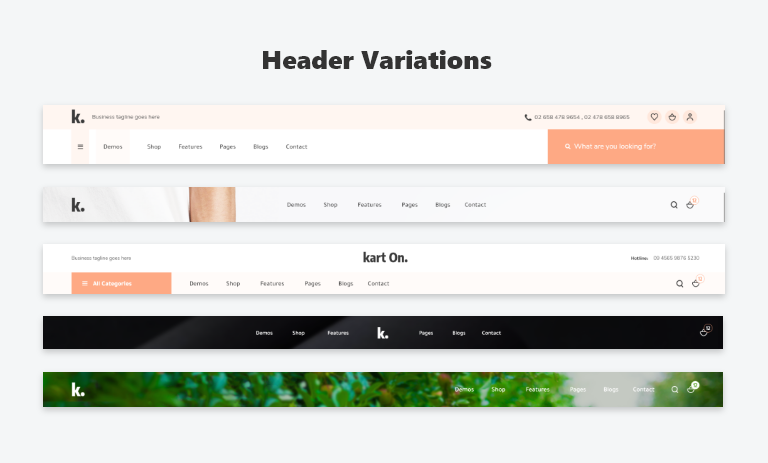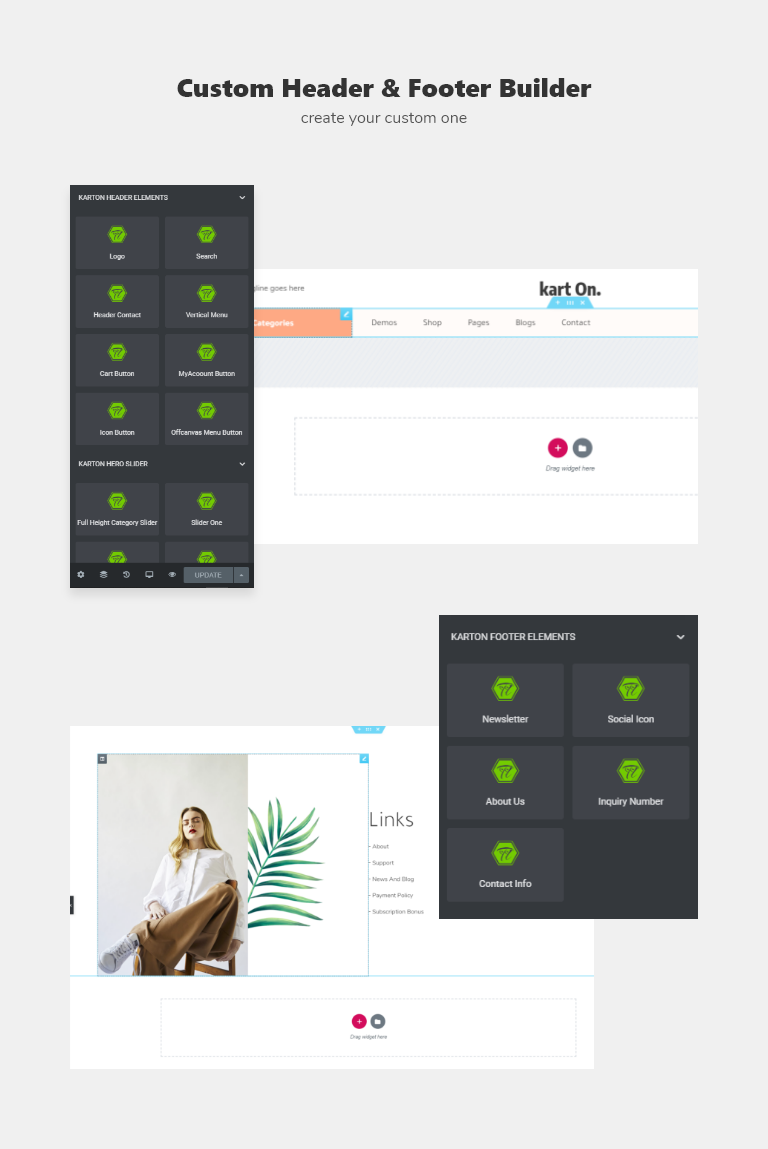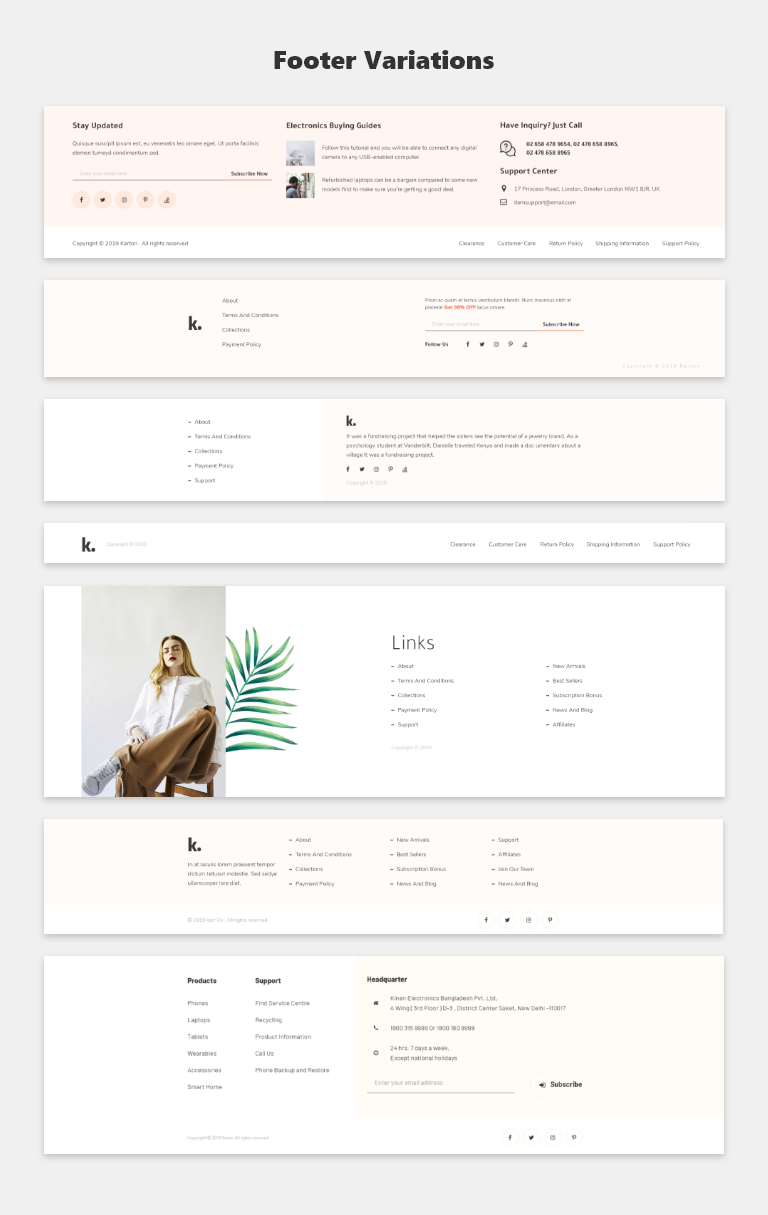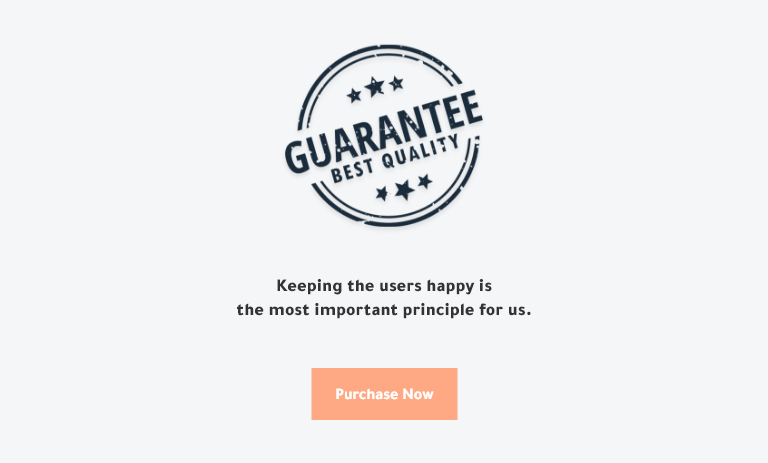 Main Features of Karton:
Latest WordPress v6.0.x Ready
Elementor Page Builder
15+ Homepages
Karton Header Builder
Karton Footer Builder
Multi Vendor "Dokan" Integrated
Responsive Mobile Menu Works Like an Apps
Advanced Theme Options Panel ( Redux framework! )
Custom meta box CMB2 Framework
Slider Revolution Included
WPML Ready
WooCommerce Ready
5+ WooCommerce Product Variation
5+ Product Card Variation
Product Live Search Integrated
Live Notifications for Product Cart and Wishlist
Product Compare Supported
Product Quick View
Advanced Product Filter Options
5+ Pre-built Menu
8+ Pre-built Footer
Megamenu Supported
3+ Pre-built Megamenu Variation
Custom Fullscreen Image Background/Slider
MailChimp Ajax Integrated
Error-free code
Strong focus on usability
True One-Click Demo Installation with content, sliders & theme options
Completely Styled Forms with included Contact-Form-7 Plugin
Blog page Layout Style ( Fullwidth, Left Sidebar, Right Sidebar)
Page Layout Style ( Fullwidth, Left Sidebar, Right Sidebar)
Child Theme compatible (example child theme is already included)
Unlimited Color Version
Strong Page Meta Option Like (Enable Page Loader, Page Breadcrumb Disable, Page Menu Selector, Homepage section image/color selector, Page Layout Selector, Header Selector, Header Logo Uploader, etc.)
Unlimited Google Fonts
Free Updates
Pixel perfect Design
Sticky Menu
Well Commented Code
Lifetime Updates
Exclusive Support
CSS3 Animation
Fully Responsive Pages
Clean Design
Retina Ready
Font Awesome Icons
W3C Validated Code
Modern Cross Browser Supported
Online Documentation
and much more…
You May Also Like Some of Our Other Items
DVPN | Multipurpose VPN WordPress Theme
Woolea | Minimal WooCommerce Theme
Exopress | Multipurpose Personal Blog WordPress Theme
Ideabuz | Multipurpose Business WordPress Theme
Eoxpress | Marketing Agency WordPress Theme
Voifone | Multipurpose VOIP WordPress Theme
Bizdrone | Multipurpose WordPress Theme
Bluishost – Responsive Web Hosting with WHMCS Themes
SOURCE AND CREADITS
Photos:
All 'images' used on the demo site is for demonstration purposes only and are not included in the main download file.
Fonts Used:
Google Fonts – http://www.google.com/webfonts
Font Awesome – http://fontawesome.io/
Frameworks / Libraries:
reduxframework – https://reduxframework.com/
CMB2 – https://wordpress.org/plugins/cmb2/
jQuery – https://jquery.com/
Twitter Bootstrap – http://getbootstrap.com
Plugins Used:
Contact Form 7 – https://wordpress.org/plugins/contact-form-7/
Elementor – https://wordpress.org/plugins/elementor/
WooCommerce – https://wordpress.org/plugins/woocommerce/
Waypoints – https://github.com/imakewebthings/waypoints/
jQuery CounterUP – https://github.com/bfintal/Counter-Up
Owl Carousel – https://github.com/OwlFonk/OwlCarousel
jquery ajaxchimp – https://github.com/scdoshi/jquery-ajaxchimp
UPDATES & CHANGE LOGS
15 October, 2022 – Version 3.0
// # List of updates
// ------------------------------

[+] Compitable With WordPress 6.0.2
[+] Fixed some Redux framework issues.
[*] Fixed some other issues

***(need to remove and reinstall the "karton" Theme and "Karton Core" Plugin to get the above updates)***

=========================================================
Changelog included in "documentation/changelog" (folder).
=========================================================


25 May, 2022 – Version 2.9
// # List of updates
// ------------------------------

[*] Fixed Elementor Deprecated Function Issue
[*] Fixed some other issues

***(need to remove and reinstall the "karton" Theme and "Karton Core" Plugin to get the above updates)***

=========================================================
Changelog included in "documentation/changelog" (folder).
=========================================================


28 October, 2021 – Version 2.8
// # List of updates
// ------------------------------

[+] Add compatibility with PHP 8
[+] Add compatibility with all update plugins
[+] Update Slider Revolution plugin
[+] Fixed some other issues

***(need to remove and reinstall the "karton" Theme and "Karton Core" Plugin to get the above updates)***

=========================================================
Changelog included in "documentation/changelog" (folder).
=========================================================


14 March, 2021 – Version 2.7
// # List of updates
// ------------------------------

[+] Fixed image cropping issue

***(need to remove and reinstall the "karton" Theme and "Karton Core" Plugin to get the above updates)***

=========================================================
Changelog included in "documentation/changelog" (folder).
=========================================================


03 March, 2021 – Version 2.6
// # List of updates
// ------------------------------

[+] Added template for Vendor Biography
[*] Update pot file

***(need to remove and reinstall the "karton" Theme and "Karton Core" Plugin to get the above updates)***

=========================================================
Changelog included in "documentation/changelog" (folder).
=========================================================


25 February, 2021 – Version 2.5
// # List of updates
// ------------------------------

[*] Fixed Product image croping issue 
[*] Update pot file

***(need to remove and reinstall the "karton" Theme and "Karton Core" Plugin to get the above updates)***

=========================================================
Changelog included in "documentation/changelog" (folder).
=========================================================


16 February, 2021 – Version 2.4
// # List of updates
// ------------------------------

[+] Fixed Dokan Pro Vendor Review Page Style Issue 

***(need to remove and reinstall the "karton" Theme to get the above updates)***

=========================================================
Changelog included in "documentation/changelog" (folder).
=========================================================


23 December, 2020 – Version 2.3
// # List of updates
// ------------------------------

[+] Two New Home Pages Added
[+] Compitable With WordPress 5.6
[+] Demo Data Updated For All Version

***(need to remove and reinstall the "karton" Theme and "karton core" Plugin to get the above updates)***

=========================================================
Changelog included in "documentation/changelog" (folder).
=========================================================


16 October, 2020 – Version 2.2
// # List of updates
// ------------------------------

[+] Compitable With WordPress 5.5
[+] Woocommerce Updated
[+] Updated Slider Revolution
[*] Fixed Breadcrumb Small Issue 
[*] Fixed Small Theme Option Error

***(need to remove and reinstall the "karton" Theme, "karton core" and "Slider Revolution" Plugins to get the above updates)***

=========================================================
Changelog included in "documentation/changelog" (folder).
=========================================================


17 August, 2020 – Version 2.1
// # List of updates
// ------------------------------

[*] Fixed Dokan Account Registration Issue
[*] Woocommerce Update

***(need to remove and reinstall the "karton" Theme and "karton-core" Plugin to get the above updates)***

=========================================================
Changelog included in "documentation/changelog" (folder).
=========================================================


21 June, 2020 – Version 2.0
// # List of updates
// ------------------------------

[*] Fixed Category Filter Issue

***(need to remove and reinstall the "karton" Theme and "karton-core" Plugin to get the above updates)***

=========================================================
Changelog included in "documentation/changelog" (folder).
=========================================================


14 June, 2020 – Version 1.9
// # List of updates
// ------------------------------

[*] Fixed Demo Data Import Issue

***(need to remove and reinstall the "karton" Theme and "karton-core" Plugin to get the above updates)***

=========================================================
Changelog included in "documentation/changelog" (folder).
=========================================================


26 April, 2020 – Version 1.8
// # List of updates
// ------------------------------

[*] Tested On 5.4
[*] License System Add
[*] Update Slider Revolution
[*] Increase Limit For Product Grid

***(need to remove and reinstall the "karton" Theme and "karton-core" Plugin to get the above updates)***

=========================================================
Changelog included in "documentation/changelog" (folder).
=========================================================


12 March, 2020 – Version 1.7
// # List of updates
// ------------------------------

[*] Fixed Off-Canvas Register Issue for Dokan Multivendor
[*] Updated Woocommerce Template Files

***(need to remove and reinstall the "karton" Theme to get the above updates)***

=========================================================
Changelog included in "documentation/changelog" (folder).
=========================================================


03 March, 2020 – Version 1.6
// # List of updates
// ------------------------------

[*] Fixed Off-Canvas Register Issue for Dokan Multivendor 

***(need to remove and reinstall the "karton" Theme to get the above updates)***

=========================================================
Changelog included in "documentation/changelog" (folder).
=========================================================


01 March, 2020 – Version 1.5
// # List of updates
// ------------------------------

[*] Fixed Some CSS Issues 
[*] Fixed Google Map Conflict With Dokan Multivendor 

***(need to remove and reinstall the "karton" Theme and "karton-core" Plugin to get the above updates)***

=========================================================
Changelog included in "documentation/changelog" (folder).
=========================================================


25 February, 2020 – Version 1.4
// # List of updates
// ------------------------------

[*] Fixed Global Header Issue on Cart Page
[+] Placeholder Text Edit Option for Search

***(need to remove and reinstall the "karton" Theme and "karton-core" Plugin to get the above updates)***

=========================================================
Changelog included in "documentation/changelog" (folder).
=========================================================


25 January, 2020 – Version 1.3
// # List of updates
// ------------------------------

[*] Updated WooCommerce file

***(need to remove and reinstall the "karton" v1.3 Theme to get the above updates)***

=========================================================
Changelog included in "documentation/changelog" (folder).
=========================================================


16 January, 2019 – Version 1.2
// # List of updates
// ------------------------------

[*] Updated Empty Wishlist Design
[*] Fixed Fashion Minimal Banner Anchor Link Issue

***(need to remove and reinstall the "karton" v1.2 Theme and "karton-core" v1.2 Plugin to get the above updates)***

=========================================================
Changelog included in "documentation/changelog" (folder).
=========================================================


02 January, 2019 – Version 1.1
// # List of updates
// ------------------------------

[*] Multi Vendor "Dokan" Integrated
[*] Improved Theme Options
[*] "karton-core" Plugin Updated
[*] Fixed some minor CSS Issues

***(need to remove and reinstall the "karton" v1.1 Theme and "karton-core" v1.1 Plugin to get the above updates)***

=========================================================
Changelog included in "documentation/changelog" (folder).
=========================================================