Pastel Floral Art WordPress Blog & Shop
₦44,250
Description
Pastel Floral – Hand Painted Creative WordPress Theme
Pastel Floral is a warm floral design featuring diagonal sections, wood and paper textures, decorated with flowers and plants. The design can be either a single page or multiple page website.  There is also a hint of retro theme with hexagons and copper tones. This design would suit personal blogs creative industries like florists, home made goods, photography, clothing, online portfolio, children, authors, and craft.
We use the Elementor Visual Page Builder to make adding/changing your content super easy. Pastel is compatible with the professional WooCommerce e-Commerce system which means it's easy to start selling products in no time. 
The Pastel Floral theme as created with ease of use in mind. Everything from the 5-minute setup Wizard through to the powerful page builder have been designed with the end user in mind. Perfect for beginners to make powerful changes, and perfect for more advanced users with a clean and simple backend code structure.
UPDATE: Please see the documentation for a video on how to update this theme to the latest version.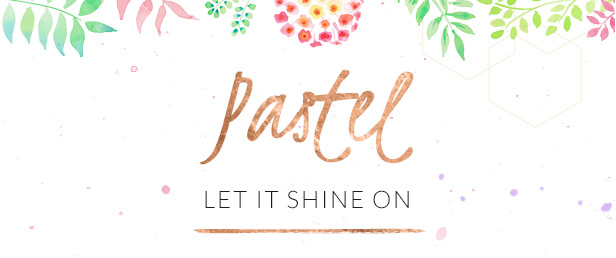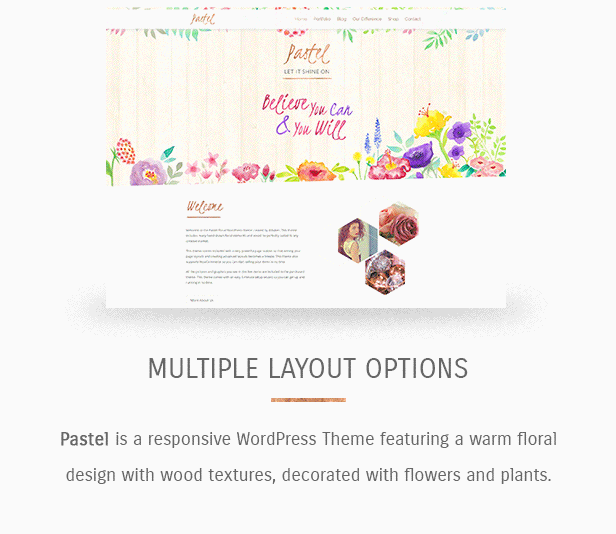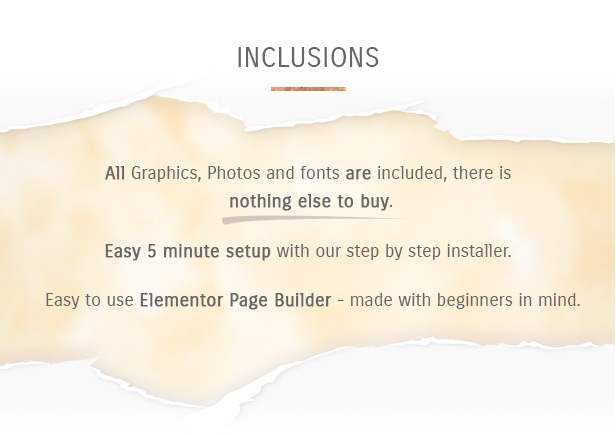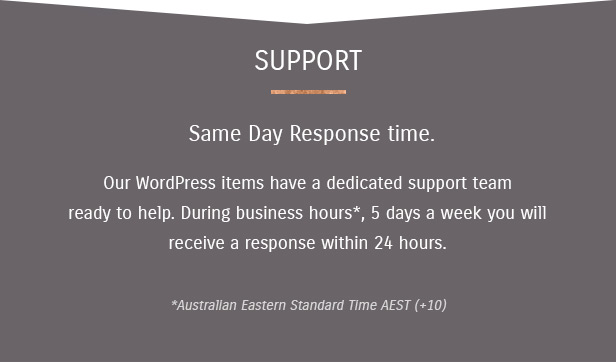 Latest Update: Version 1.1.4 on 2017-06-05.
Pastel Floral is a hand painted creative website that was really fun to make. This is our easiest to use theme yet!
Some design elements you will see in this theme:
Flowers
Hand Drawn
Full Width
Single Page
Sliders
Visual Composer
Diagonal Separators
Hexagonal Blog Images
Portfolio
A short list of features that you'll see in this theme:
WordPress 4.8 compatible!
Brand new easy installation wizard – watch
the video to see how great this really is. No messing about with tricky settings, just click a few buttons and you're up and running like the live demo.
Creative and easily Customizable Design
No complicated frameworks – if you need to do advanced changes it will be easy
Elementor Page Builder included.
Easy sidebar manager (hide/show sidebar on each page, left/right/footer widgets)
Easy Font Customizer – change sizes, colors, padding and more.
Professional e-Commerce option with WooCommerce: example
Responsive CSS Layout – iPhone and Tablet friendly (can be disabled as well)
LESS files included for some of the CSS files (optional)
Contact Forms through ContactForm7 plugin: example
Full Documentation provided – check it out!
Straight forward CSS and HTML markup making it easy for more advanced users to customize
Default content included so you can get up and running like the demo site in no time (watch the video to see how easy it
really is)
Quick Setup Guide:
New to websites? Here are the steps you need to follow to get up and running with this website theme.
Purchase a "domain name" (e.g. yourbusiness.com)
Purchase "WordPress website hosting" (hosting is the computer server that runs your website and emails 24/7)
Some popular providers for domain names and hosting are: BlueHost, DreamHost and WPengine. Generally the more you pay the faster your website will load.
Talk to your chosen hosting provider to setup your "WordPress" and make sure it works. You should be able to login to your "WordPress Dashboard" with a username and password.
Once you are at this point, come back here and purchase this WordPress theme.
Once purchased, go to http://themeforest.net/downloads and press "Download" and then "Installable WordPress file only". This will download a small (less than 20MB) zip file to your desktop.
Login to your WordPress dashboard, go to Appearance > Themes > Add New > Upload and choose the ZIP file you just downloaded.
After uploading the theme to WordPress choose the "Activate" option
Follow the setup wizard steps.
Requirements
Some basic knowledge on how to use
WordPress
WordPress 4.8 or above running on your website
The ability to install WordPress themes and plugins
Advanced Changes: you will need good PHP/CSS/HTML knowledge or be prepaired to hire someone from Envato Studio to perform advanced modifications for you.
Elementor Page Builder
This theme is comatible with the Elementor page builder. Elementor is a very powerful and very good WordPress page builder. Using Elementor will help you design amazing looking pages very quickly and easily.
More details about the Elementor page builder are here:
Read the documentation available here: https://docs.elementor.com/
Watch the Videos on Youtube here: https://www.youtube.com/channel/UCt9kG_EDX8zwGSC1-ycJJVA
Stay up to date on the latest new features via Facebook here: https://www.facebook.com/elemntor/
Upgrading to Elementor Pro
This theme is compatible with the Free version of Elementor. It is already extremely powerful, but you can take it to the next level by purchasing the 3rd party Pro version. For a small extra fee you get access to great new features such as: Form Builders, Slides, Portfolio, Global Widgets, Custom CSS, Pro Pre-Made Templates, WooCommerce addons, Flip Box, Masonry Layout, Share Buttons and much more.
To find out more and to purchase Elementor Pro please click here: https://elementor.com/
Support
We hope you enjoy this theme, we had a great time making it. Thanks!
Changelog:
Here is a list of theme changes:
Version: 1.1.4
Date: 2017-06-05
– WordPress 4.8 Support
– Elementor update
Version: 1.1.3
Date: 2017-05-25
– WordPress 4.7.5 Support Added
– Elementor update
Version: 1.1.2
Date: 2017-04-24
– WordPress 4.7.4 Support Added
– Elementor update
Version: 1.1.1
Date: 2017-02-02
– WordPress 4.7.2 Support Added
– Elementor update
Version: 1.1.0
Date: 2016-11-02
– Elementor update
Version: 1.0.9
Date: 2016-10-11
– Fix default content
Version: 1.0.8
Date: 2016-10-10
– Fix missing stylesheet
Version: 1.0.7
Date: 2016-10-10
– Elementor update
Version: 1.0.6
Date: 2016-09-13
– Fixed menu hover
Version: 1.0.5
Date: 2016-09-10
– Fixed layout issues
Version: 1.0.4
Date: 2016-09-07
– Fixed layout issues
Version: 1.0.3
Date: 2016-09-06
– Added Elementor page builder support
Version: 1.0.2
Date: 2016-08-01
– Bug fixes
– Improved diagonal lines in Firefox
Version: 1.0.1
Date: 2016-07-14
– Initial Release